Crossdressing presentation is an art and a lot more than standing in front of a mirror in a dress. This page and the ones attached will give you information on crossdressing other than makeup which is covered extensively on its own menu.
In order to purchase
women's

clothing that fits properly and create a feminine illusion you need to know your size which is accomplished through padding.
Feminine curves are easy now days because there are many products out there to choose from and of course I have a favorite.
THE PADDING
I use gel pads by Classic Curves International made by my old friend Espy Lopez. Gel pads are heavier than the foam pads but are far better crossdresser presentation and more realistic feminine illusion. They are very
durable,

and I have had mine over 25 years.
People make the mistake of lifting them up and then thinking they are heavy and will slide down. They think you will need to pull them up all night. I can tell you that I have never had one issue with them moving at all wearing them day and night.
KEEPING PADS IN PLACE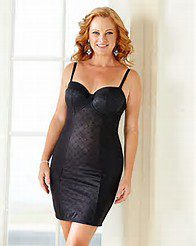 Wearing either Spanx or some other shaper and sometimes panty hose over my pads works best for me. I insert the pads inside positioning them where I want them. Then I wear an
all-in-one

shaping slip from Magisculpt that has the bra built in. I crisscross the straps so that they don't slide down all night.
PUTTING THE PADS ON
Turning the garment inside out before putting it on works best. Wearing the pads in my pantyhose I hold the slip upside down and inside out with the bra in front.  Holding on to the hem I step in and pull it up
my legs

to about mid-thigh. I then pull the bra portion over the hem making the garment right side in. Using the bra straps to pull it all the way up sliding my arms through them like the picture above. The shaping slip maintains constant horizontal pressure on the pads. That pressure keeps them exactly where you put them. You can adjust the pads if needed to have a smooth feminine shape for my crossdressing presentation. I am not even aware I have them on.
Because
the slip

extends down your leg to upper thigh and the material is rigid enough that it eliminates your boy bulge up 

front. When

I wear pants, I just roll up the slip enough to get them on and work the boy bulge problem another way in necessary.
Gel pads are more expensive at about $300.00 a set but if I divide that by 15 years the cost me $20.00 per year.
Check them out for your crossdressing presentation I think you will like Espy's Classic Curves Gel Pads.
BREAST FORMS
Breast forms are a necessity to create a feminine illusion for the crossdresser presentation. For my breasts I use the tear drop breast form from Supergel Products. PALS are what they are called and made from a similar gel material to the hip pads.
They

are very reasonably priced around $100.00 per pair because you are buying from the manufacturer.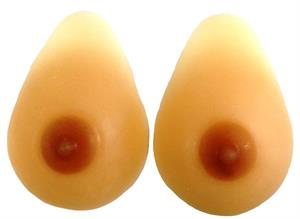 SHOPPING FOR WOMENS CLOTHING
Women's
clothing for

crossdressers presentation is not as simple as it may seem. There is much to consider depending on what your goals are. Are you trying to pass as a woman in public or just blend in without attracting attention? Either way what you should wear depends on where you intend to wear it. Summer in Las Vegas or winter in Seattle will be very different. Also, day or evening, casual or formal need to be considered. Once you have all that sorted out now comes the difficult part which is what crossdressing presentation looks good on you.
WHO CARES
Another school of thought is I don't care how it looks I just want to wear it. Those in this category buy what they want, wearing it
wherever

they want, whenever they want. Maybe they are fetish or exhibitionist, so it is the article of women's clothing that is important positive crossdresser presentation and not passing. From my experience it takes them about a half hour to get ready to go out. If I see them coming, I cross to the other side of the street and look the other way.
My goal is to look good passable or not and want to achieve it every time my crossdresser presentation is present in public. Most women wear toned down makeup for daytime along with lower heels or flats. Jewelry is minimal and not flashy. Pants are preferred with tank tops weather permitting over dresses
and skirts

. A long sleeve blouse or light jacket over the top of the tank. Everything in the casual range like most everyone else. The fabrics and colors should be subtle and fit properly. For daywear crossdressing presentation looking good depends on your choices.
I gave up passing a long time ago and concentrate on blending
into

some degree. Maybe trying not standing out so much would be a better choice of words. I am under six feet but over 200 lbs. so I try to look thinner dressing in layers and dark colors. Light blue jeans and white blouse with a dark open jacket is very slimming. The viewers eye will focus on what blouse and the vertical lines created by the jacket.  I have switched to shorter hair teased high on the top making my crossdressing presentation a little taller but thinner too.
EVENINGS
When crossdressed I am always in skirts and sometimes dresses with hose and heels. The skirt is usually a lighter color than the top or jacket. The top is usually solid black with a vertical zipper unzipped to the breast.  If I wear a blazer normally it is a one
button,

so the deep Vee accentuates the vertical slenderizing lines for my crossdresser presentation.
Dark colors on the upper body make it appear slimmer while lighter colors on the lower body are only for contrast. Crossdressers typically are slender below even after adding hip pads. I always wear heels at night. Normally 3
1/2-inch

heels and rarely 4 inch depending on the occasion.
NECKLINES
Some crossdressers have broad shoulders (ME) so dark colors on top will make them seem narrower. Horizontal stripes will make my shoulders seem
wider,

so I keep the stripes below the waist. Square neck lines or off the shoulder looks create the same horizontal line problem again. Scoop or Vee neck tops work great along with scarves, anything that creates a vertical line improving crossdressing presentation.
FITTED OR TIGHT
Tight is different than fitted which contours the body leaving room where needed. Tight is absolutely form fitting which some call body con because it hugs every curve on the body. I can't remember ever being able to get away with this look for my crossdressing presentation and am too old for it now anyway. If the crossdresser is built slender with little or no muscle definition many can get away even if they are older. Most men are muscular to some degree and if they are well defined this tight look will give you away. People will see muscles first and look closer to see if it is one of those body builder women. Most will see a muscular guy in women's clothing. Fitted makes more
sense for

crossdressing presentation feminine illusion unless attention is your goal.
AGE APPROPRIATE
Designers of women's clothing have a target market they expect to sell to so the colors, cut, patterns and over all style are geared to a certain group. The younger the woman the tighter the look and the more skin shows with the size range
being limited

to smaller sizes. When the age increases less skin shows, the hemlines drop, and the sizes increase along with the prices. I have heard it said that your age plus or minus a decade is a good rule of thumb for crossdressing presentation and I think I follow it at least to some degree. I am over 60 so I might change my mind in a few years.
FEMININE ILLUSION FIRST IMPRESSIONS
When you are out in public dressed in women's clothes people will form an impression of you based on what they observe. If you wish to influence that impression as I do, then you will plan what you wear accordingly. In my case the goal is to have women be impressed by my sense of style in the clothing that I choose. To be appreciate my feminine illusion with hair and makeup crossdresser presentation knowing what it takes to get there.
Finally,

to have an overall impression of class and elegance of me. Not saying I get there but that is what I work for none the less. Men notice too but are not interested in me or my crossdresser presentation which is perfect because I have no interest in them either.
In contrast if I wore blue eye shadow, bright red lipstick, a red and white tube top with horizontal stripes and a Kardashian style
skintight

mini skirt. A pair of platform heels and fingernails that extend an inch beyond my normal nails. Topped off with a long platinum blonde wig cascading down over and beyond my shoulders. My target audience would most likely be repulsed and very likely angry thinking I was mocking them. Men might not be able to resist ridiculing me and feeling they had a license to do so based on my crossdressing presentation.
Crossdresser colors you say! What is that? Years
ago,

 I found out quite by chance at California Dreaming a San Francisco crossdressing event. I was wandering around the vendor area looking at all the wares available when I came upon the Donna Fujii Cosmetics booth. There wasn't much going on during the day in that most everyone was in the city shopping. As I was talking to the lady in the booth she asked if I wanted my colors done. I replied to crossdresser colors. She explained that everyone should know their colors especially crossdressers. 
COLOR CONSULTATION
I sat down in the
chair,

and she explained the difference between cool colors and warm colors. My skin is medium, and I was wearing a dark brown wig so while my skin says warm my hair said cool. She started with cool and placed a piece of silver metallic cloth on my shoulder and asked me to look at my face especially my makeup.  She then placed a gold metallic cloth on the other shoulder again asking me to look at my makeup. When she then removed the silver cloth it seemed like my makeup changed looking much more complimentary or warmer. She advised switching to warm tones like blond wigs and warm palette colors for makeup to create the best crossdressing presentation for feminine illusion.
Clothes such as red really pop crossdressing presentation when worn with a blond wig.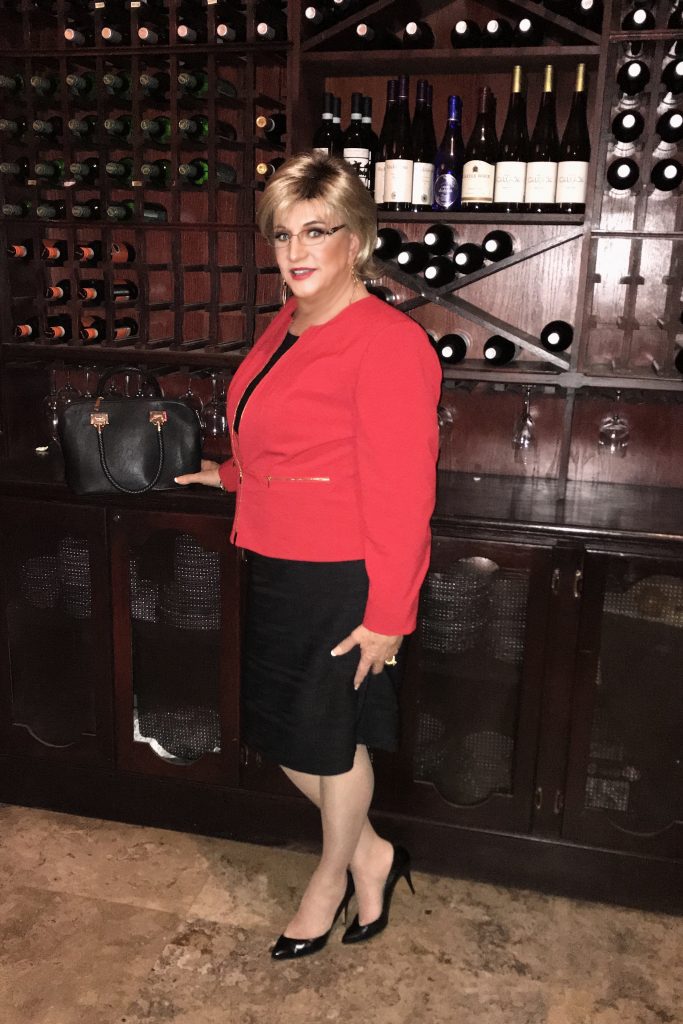 Finding anybody wearing much color is difficult today women, crossdresser's or anyone else.
Yes,

black is slimming but gets old seeing everyone dressed that way.
HAIR AND MAKEUP
The most important colors to get right for feminine illusion crossdressing presentation are makeup and hair
so,

if possibly get the makeup right for your skin, then do the wig color and style. The ideal would be to try on wigs dressed in your correct makeup on. Shorter styles are easier to work with because you don't get distracted with the style and concentrate on the wig color complimenting your makeup. I think you will be surprised pleasantly and please purchase a wig if you take advantage of the Solon's expertise.
Another possibility is to attend a crossdresser convention / conference where there is a wig stylist exhibiting but again, if at all
possible,

 purchase something from them. Diva Las Vegas this fall should have a wig company working with them.
FINGERNAILS
Fingernails are an important part of your feminine illusion and a must for crossdresser presentation and can really make your look pop! Bright red is great along with glitter and other bright colors but attracts attention. French manicure nails are very popular and go with any outfit day or night. They won't stand out terribly and still look great at night when dressed up.
I hope this is useful especially to those just venturing out for the first time and they find some women's clothing they can feel good in.
Hold your head up, point your toes, be safe, and go enjoy yourself and your crossdressing presentation.