Classy mature crossdressers are seen more and more out among the mainstream public as time goes on. I define mature as over 50 for the range of crossdressers discussed here. The reasons vary but I think the most common is first it is more accepted. Second the kids are out of the house and privacy is finally available so the wardrobe can come to the house. In some cases, sadly the wife has passed so the classy mature crossdressers have no constraints on his time crossdressing.
CLASSY MATURE CROSSDRESSER'S VENTURE OUT 
Over my 27 years as a member of CHIC with 20 or so in various leadership positions age 45 is typically the youngest applicant. That age is when things seem to come together for heterosexual crossdressers for the aforementioned reasons. For most of us crossdressing now becomes more fun and satisfying than ever before. Typically, we have more disposable income now. In many cases retired so more time is available for enjoying our passion. All that is needed is some dressing knowledge and the courage to venture out.
CROSSDRESSER SERVICES
Those inexperienced with being in public dressed might choose to use one of the many crossdressing services around the country. You will spend a little money up front but will save plenty in the long term. I say this because I like others learned the expensive way what didn't work. Trial and error are not cheap especially of you have little knowledge but plenty of money. Better to gain some knowledge from an expert
FIRST!
CLASSY MATURE CROSSDRESSER SUPPORT GROUPS
From my experience most crossdressing groups today are majority populated by classy mature crossdrssers be they social or support groups. Those under 50 seem to prefer meetup groups and other less structured activities.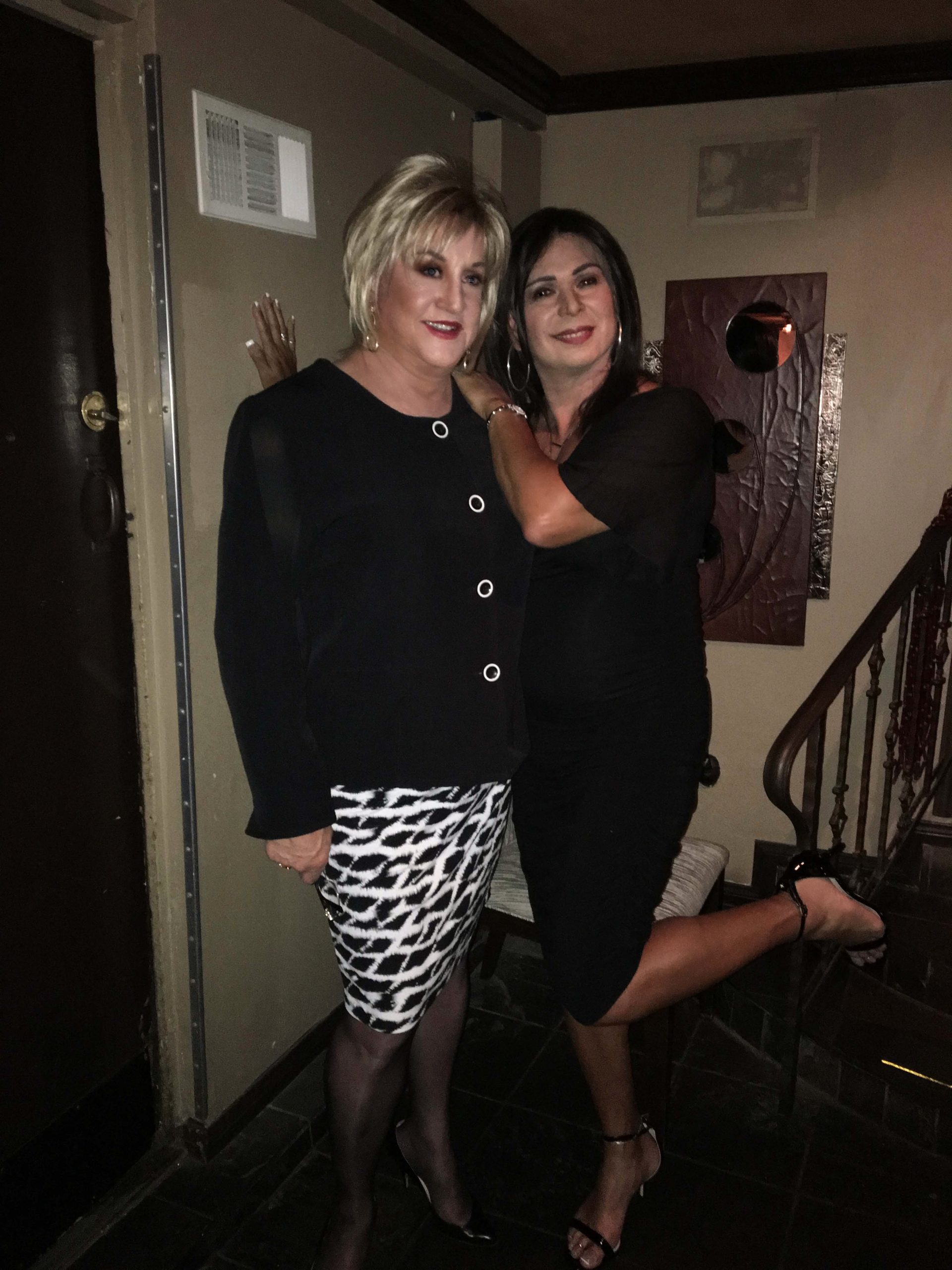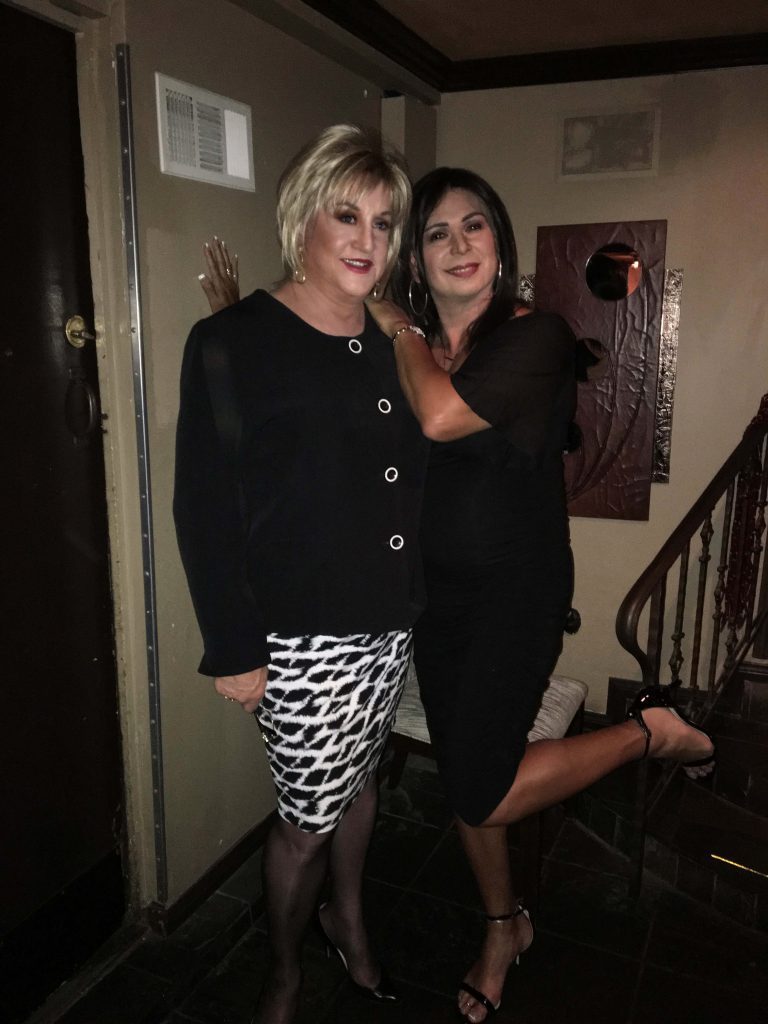 For classy mature crossdressers over 50 they can be richly rewarding especially for making new friends. For most of us we have had friends through the years but, none that we could share our secret with. With social crossdressing clubs everyone has the same secret. Every crossdresser wife has the same questions and concerns. This can lead to very rewarding friendships for both crossdresser and his wife.
MATURE CROSSDRESSING SOCIAL SCENE
The Friday night before our monthly CHIC meeting affords an opportunity for some members to go out 2 nights in a row. Some travel a great distance to attend meetings and like myself get a hotel room for the weekend. Wanda and some others joined me for the January Friday night before our Saturday meeting. She and I are in the lounge of one of our favorite mainstream restaurants in Long Beach. The only crossdresser wife attending that night was Wanda's who took the picture.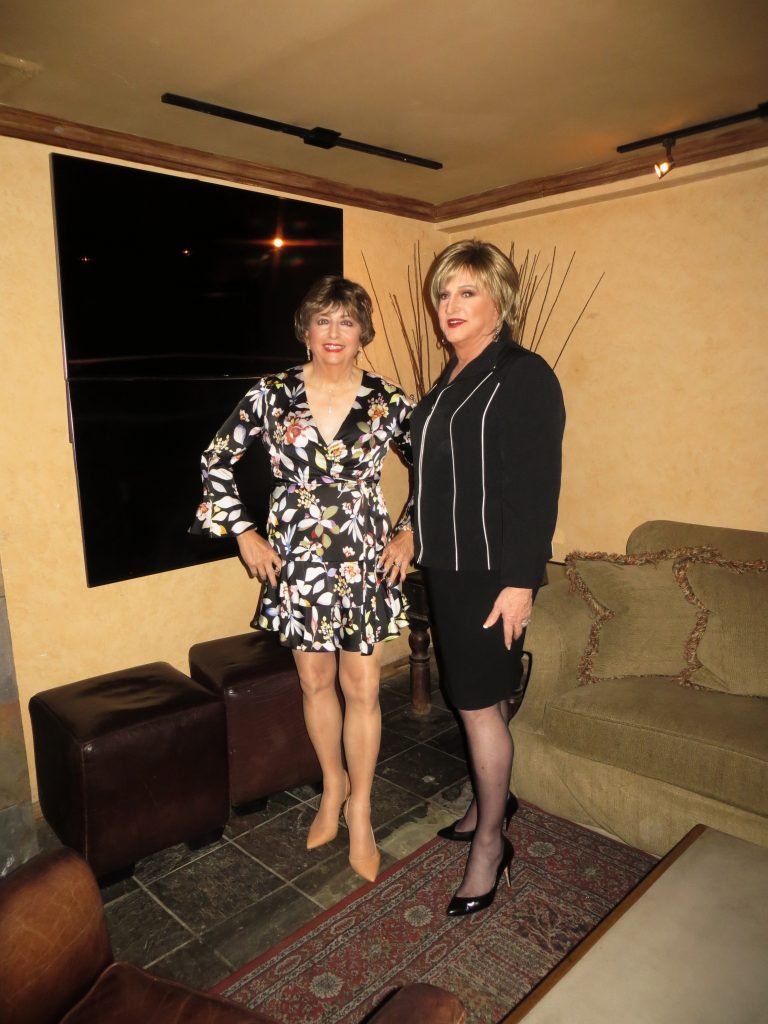 SEASONED CROSSDRESSING
The membership of CHIC ranges in age from 42 to 93 the average being about 60. We are a fun group who look forward to our monthly get together. We stay away from politics now days but, conversations can range from airplanes to eyeliner techniques. The knowledge attained over decades is willingly passed along to the younger members if they are receptive. 
CLASSY MATURE CROSSDRESSER'S WITH STYLE
Micki Finn
Pictured in the picture above are myself in the foreground and CHIC members Raquel, Tonya, and Lorena. It was taken at another favorite restaurant in Long Beach where we pretty much took over the bar after dinner. I like many classy mature
crossdressers

prefer to dress on the conservative side without being dowdy or fuddy duddy! I love this jacket and skirt combo that I purchased separately and paired together. The look is timeless which is my goal whenever I purchase something. Only dressing a couple of days per month means if I buy something trendy, I may only get to wear it once before it goes out of fashion.
CLASSY MATURE CROSSDRESSER'S POSITIVE IMAGE
I have some shorter skirts slightly above the knee but mostly prefer the hem mid knee. They will always be in style if not fashion and don't send the wrong message to those I encounter while out and about. The last thing I want is to give the impression that I am looking for some action. I always wear the wedding rings my wife bought me in case anyone looks but that doesn't always deter people.

When I am approached in public it is typically from women curious about my being dressed as a woman. I was approached several women while wearing this outfit last Saturday night on Pine Avenue in Long Beach. Another woman made several passes by my friend and I at the hotel later that night with compliments. Some notice my ring and inquire whether I am married to a man and are shocked to find I am heterosexual and married to a woman. I have enjoyed many enlightening conversations with these women and even their husbands on occasion. I am sure the conversations would not happen if I was dressed in a manner that made them uncomfortable.
MATURE  CROSSDRESSING TIME
You aren't getting any younger as the saying goes so if you're going to go out times a wasting as they say. However, you can look much younger than you are with TAPING and other makeup tricks. There are also skin care techniques and various cosmetic procedures that are available to take years off your face. Some are noninvasive and people will just say you look great, refreshed and younger. Your hairstyle and the clothes you wear will also help with your look. Here again the crossdresser services will be a great help to your presentation.
Get dressed, go out, be safe, have fun!