CROSSDRESSER FEMALE SHAPE
Crossdresser female shape is needed to present convincingly as a female in public. Crossdresser's passing is much discussed and yet many crossdressers don't use padding thinking they don't need a crossdresser female shape.
Women have curves where men don't so for a crossdresser to achieve a feminine womanly shape requires some padding. The figure on the left has straight male hips while the figure on the right is padded creating a crossdresser female shape. If you were approaching from behind most likely the figure on the right would be assumed female.

The one on the left would seem out of place and create curiosity and possibly a closer look. The shoulders on the left image are very noticeable because they are the widest point while the image is not because the hip pads balance the image.
CROSSDRESSER FEMININE SHAPE
When Espy Lopez crated her original Classic Curves Hip Pads she told me how she came up with the right proportions. She used a computer to lay an image of a man over an image of a woman of the same height. She noticed that the woman's hips were very close to the width of her shoulders.
CROSSDRESSER FEMALE PADDING
This is done by padding the breast and hip areas of the male body to look emulate a woman's body.
How much and where is the question.
Women's clothing is designed to fit based on the measurements in three areas bust, waist and hips.
First you need to figure out what size women's clothing you will need. Crossdresser or T Girl padding is what takes your silhouette from him to her.
Crossdressers have two ways to approach this issue which are pad up or cut down. Crossdresser female shape by padding up is the easiest because you buy your clothes to fit your shoulder width or chest size then add padding where you need it. Cutting down requires a seamstress and adds as much as 50% to the cost of the dress which is avoided if you pad up.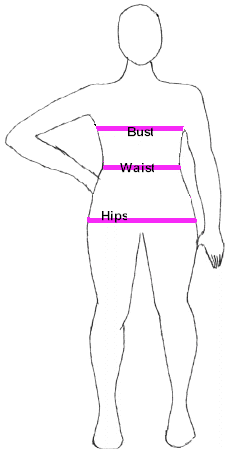 The most important measurement for crossdresser's female shape is the chest which will determine dress size. The chest measurement (around your chest across your nipples) will be what determines the proper dress size. In women's fashion it is also referred to as the band size. Your bust size will be your band plus the height of your breast forms
The waist is typically smaller than the bust but if not, you will need a waist cincher or corset to fit into the dress. The hip area will have plenty of room to add padding. Hip forms will add 2 to 5 inches to the hip size.
YOUR CROSSDRESSER FEMALE SHAPE DRESS SIZE
Let's say your guy measurements are:
Chest-43
Waist-38
Hips-42
The chart below shows women plus size dress options using bust, waist and hip measurements. Based on the measurements above look at the chart remembering your CHEST is 43 inches not your BUST.
Lauren Ralph Lauren | Plus Size Dress
Chart
Size
Bust (in.)
Waist (in.)
Hip (in.)
1X
14W
43
35
47
1X
16W
44.5
36.5
48.5
2X
18W
46.5
38.5
50.5
2X
20W
48.5
40.5
52.5
3X
22W
50.5
42.5
54.5
3X
24W
52.5
44.5
56.5
The 14W won't work because there is no room for breast forms and the size 16W only allows you a 1 1/2 inch breast form which is basically flat chested. Your body will look out of proportion to that of a normal woman for the height and weight.
The 18W is a better choice because it allows you a 3.5 inch breast form for a more proportioned figure. Your BUST would be 43 + 3.5 =46.5. Your 38-inch waist will probably fit with SPANKS or a girdle. 42-inch hips leave you 8 1/2 inches for hip padding or 4 1/4 inches per side.
Gel pads are almost indestructible and feel very natural. I have heard people say that they are too heavy. When you keep them in place with pantyhose or Spanx you don't even know you have them on.
CROSSDRESSER FEMALE SHAPE BREAST FORMS
I recommend Super Gel Products for breast forms. I use them and they are made from the same gel as the Classic Curves Hip Pads. Crossdressers will find PALS breast forms are very reasonably priced.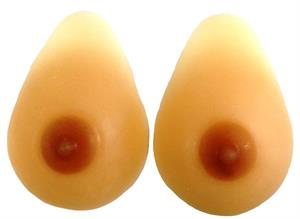 If you are buying a jacket or blouse along with a skirt the 18W would work for the jacket and blouse but the skirt could be a 14W depending on the manufacturer.
CROSSDRESSER FEMALE SHAPE ALTERATIONS
Another way to achieve crossdresser female shape is to buy miss's sizes which has a larger selection and tops out at 18 usually. Use the misses size charts the same as the Plus Size Chart to find your size. I have worn a Misses size 18 that fits my shoulders for years and had them altered to take in the waist and hips properly. That is expensive when you add it all up. If I buy a 16W from the women's section, it usually fits perfect without alterations. Buying skirts is a different story I buy 14W because I don't like the larger hip that goes with the 16W.
Both crossdresser female shape padding products are solid molded silicone and not liquid silicone inside a plastic form. If the plastic ones get punctured they will leak. You will have to patch it with duct tape or something else.
 I feel it is important to invest in good quality crossdresser female shape padding that is durable and will give you a consistent size. If you get it right in the beginning you will save a lot of money in the long run. In my opinion if you buy either of these products, they will outlast you over time.