Crossdresser styling is one of if not the most important considerations of every crossdresser. It's more of a process than an action if done correctly because some thought is required to get your best presentation. The purpose for your dressing comes at the front and dictates how you will proceed think classy or trashy! I don't do trashy so I will leave that to your imagination and continue based on my preferences.
My crossdresser styling is conservative, and my goal is to look classy without regard to passing which, is unimportant to me. Besides classy if I should be so lucky being interpreted as elegant would be the crown jewel for me. The fun comes when I start to think about the process of going out for the evening and where I am going. What do I have that is appropriate for the occasion and the weather I will encounter when I get there. I go to my closet and put together an idea of what appeals to me based on my mood and the people I will be with. If I was with them recently, I don't want to wear the same things I wore then. Once I have chosen the outfits, I select the wig that compliments then. This where we get to have the fun that most women don't unless they have a selection of wigs to play with. Black and white outfits get the dark wig with the white hair in the front. Blue outfits get the graying brown combination and blonde goes with everything, so my mood dictates when I wear it. Shoes and purse are based on the clothing selections along with jewelry such as gold or silver.
The fun part above is also the easy part because everything that lives in my closet has already been through the crossdresser styling test and passed so it's just a matter of what goes well together. The process gets a little more complicated when you start shopping for clothes, but it can still be lots of fun. I will start literally at the top and work my way down to the shoes to show you what is involved in my crossdresser styling process. The wig below is a long bob style called Tiffany from Godiva's Secret Wigs in California and I have several colors.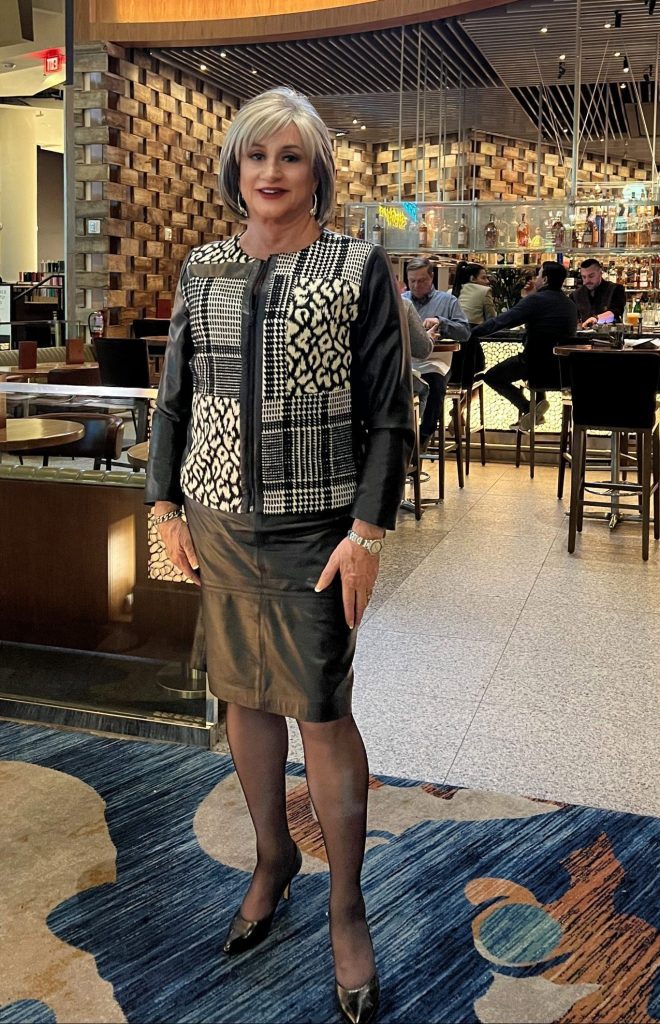 CROSSDRESSER STYLING WIG SELECTION
The 1st wig below on the left is a long bob style called Tiffany from Godiva's Secret Wigs in California and I have several colors. The middle is Trixie and has a little less volume of hair. On the right is Freedom and is the shortest of the three. The crossdresser styling process here is that I started with the freedom and progressed to the Tiffany experimenting with different short lengths. While Tiffany is my go-to wig for evenings out the other two styles are my choice for daytime shopping adventures. I am more comfortable wearing the shorter style during the day because it attracts less attention being a popular cut with many women. It's easy to fix when the wind blows it around going right back into style with your fingers.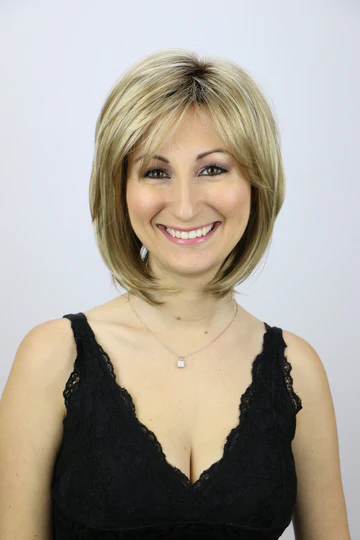 The crossdresser styling selection criteria for all the wigs I use is the same. 1st it comes in a large (23″) cap size that fits my head perfect, 2nd the long bob style frames my face giving it a slimmer look, 3rd by moving the part somewhat against the flow of hair it adds more height again to thin the face.
Tiffany is my favorite but was a long time coming because every single one I tried over the years made my head look like one of those old leather football helmets from the 1920's. They were too small in size and too short for my body, so I quit trying them. My wife however never quit telling I should wear shorter wigs than I was comfortable with at the time. The big change came one night when we returned from the club Christmas party a few years back. When we got back to the hotel room, she had me try on the wig she wore that night which was a blond with shaded roots in a short style. I gave in and tried it on, and she teased it up giving it some height and I was in shock because it looked great. She explained that the added height made my head and face appear thinner along with my body. I wore larger wigs styled wide with some volume to accomplish the same thing, but I had trouble styling them. With the Tiffany, I just shake it out before putting it on then smooth it into place followed by styling it with my fingernails.
This learning process was frustrating and expensive, but it was well worth it because the women's cancer charity received my whole collection of old wigs. The bonus for me was that I immediately started replacing them with wigs that fit correctly for the first time in years. Until I discovered Godiva's all but one of my wigs was size medium and never fit correctly so now the problem is solved.
For crossdresser styling part two dresses and various tops are the focus. Most men's shoulders are the widest part of the body and for those trying to pass or blend they become an issue. The correct crossdresser clothes can go a long way in achieving the feminine silhouette we all desire. Some crossdressers try to wear a longer or fuller wigs to deemphasize the shoulders like I used to do. Like I mentioned in part 1 I have opted for a shorter but taller wig in an effort to balance the shoulder width issue. The picture below is me wearing the Freedom wig shown in part one, but I moved the part against the grain to get more height.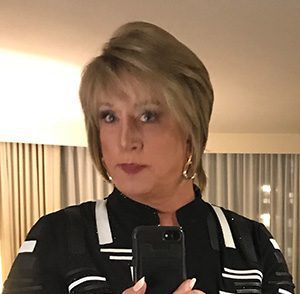 What type of crossdresser clothes you buy based on your styling evaluation is crucial to your presentation regardless of your goals. My goal is to appear as slender as I can, so my clothing choices typically have a vertical line in the center. Most of the time I wear collarless jackets, so the front zipper is prominent because of the silver or gold coloring. It takes the viewers eye to that area which appears slimmer. I don't zip them all the way up stopping around my breasts which creates a slender deep vee. The same goes for blouses, sweaters, and dresses with a Vee neckline taking their attention away from the shoulders.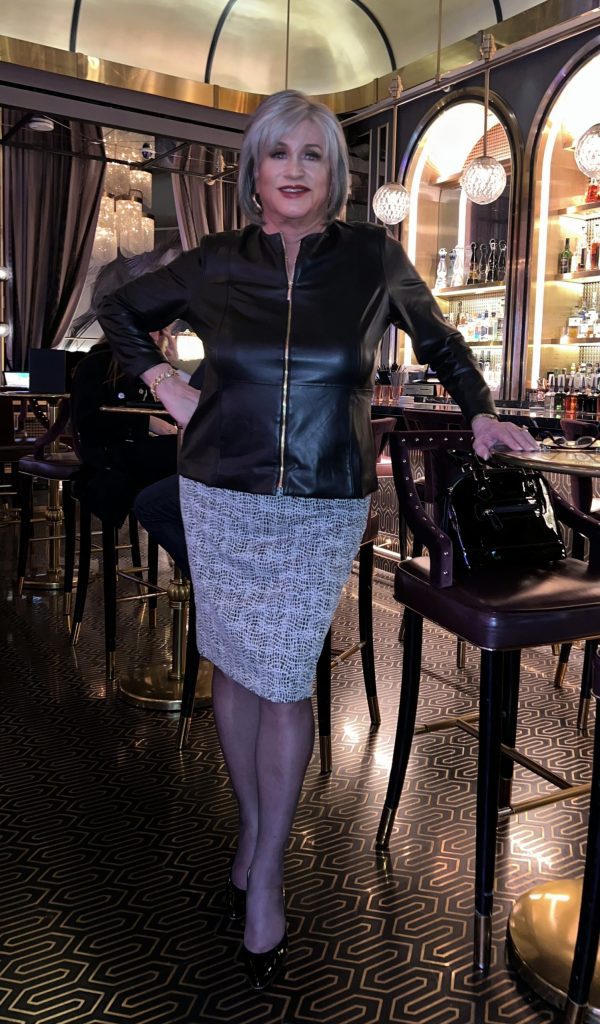 Colors and patterns in crossdresser clothes also play a role in minimizing the shoulders and focusing the eye elsewhere. I try to buy pencil skirts with patterns to emphasize it instead of the shoulder area. The pattern below with solid above takes the viewers' attention to the skirt. Depending on the brand I sometimes luck out and don't have to alter them. I won't wear a skirt with a straight hem because it is the same problem as the shoulder width. If the skirt does not taper down from the hips to the knee, I have it altered by a seamstress as was the case above.
CROSSDRESSER CLOTHES DRESSES
When it comes to crossdresser clothes with dresses the process is a little different because you are typically dealing with one pattern or color. Solid dark colors in general are more slimming, but there will be times when I just say screw it I wanna wear it anyway. That was the case with the blue dress below the night before the club Christmas party.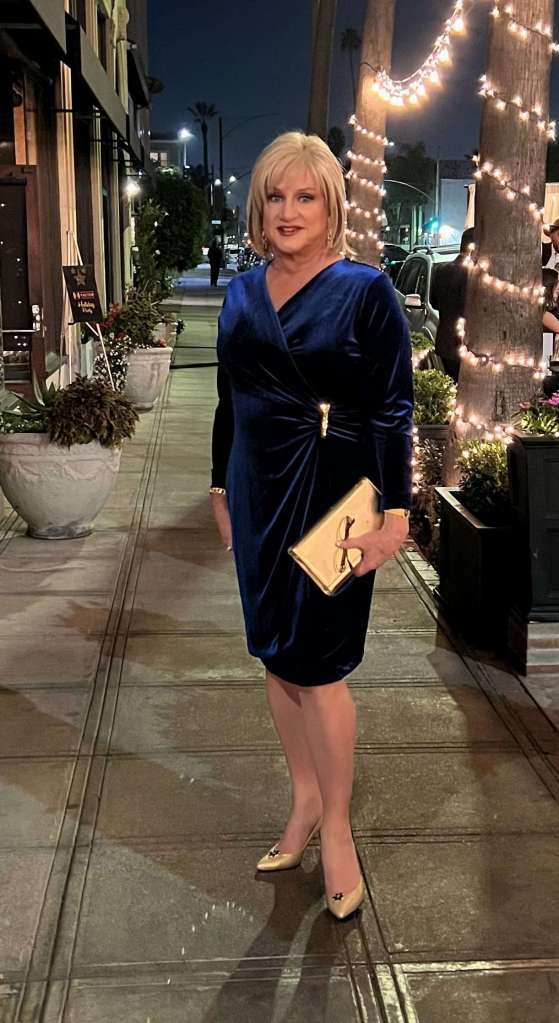 My crossdresser clothes don't include many dresses because I have always loved tailored suits. If not suits, jackets and skirts are my next choice and always tailored for the best feminine silhouette. That said I have purchased several dresses recently so pictures will follow soon. I did wear a lace dress to the Club Christmas party this year which is a pattern but not the type of crossdresser clothes you wear every day.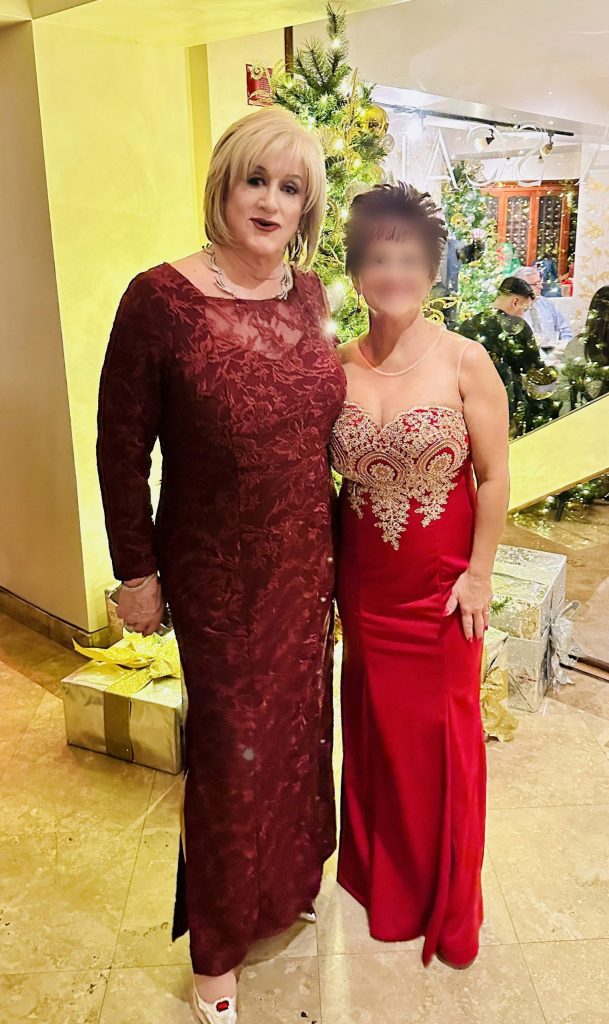 Crossdresser heels are the ultimate representation of femininity, and we all love them for sure. I love hearing my heels on a tile floor especially if it's a hotel lobby or various locations in Las Vegas. The heel height is a major consideration when you are shopping for a pair along with where you will be wearing them. My crossdresser heels I wear in Las Vegas have gone down in height as I have gotten more experience. Where I once went for 4 inches, I'm down to 3 1/2 to 3 1/4 and the main reason is the walking that is necessary going from the room to the casino. It seems like miles, and I try to walk on carpet whenever possible taking advantage of the padding.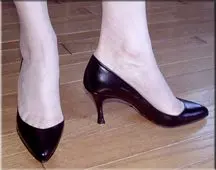 The crossdresser heel width is also very important, and I am now increasingly opting for about a 1/2 heel tip instead of my 1/4 for comfort and stability. I bought the pair above from Classic Pumps who have them made in Spain and are high quality leather so you can stretch them if needed. Crossdresser heels will always be somewhat painful no matter what you do to make them fit better just because of your weight baring down on your toes and the ball of your foot. It's a lot different than a 100 LB woman wearing the same shoe.
Knowing your size is very important and if possible, get it done by the shoe salespeople to make sure you get it correct. You want to make sure you start off on the right foot. (Sorry I couldn't resist that one) If you can't or won't do that if you have an average foot just buy a size 1 and 1/2 size larger than your male size. I wear a 9 1/2 guy shoe and a 11 women's shoe which works out pretty well with a little stretching.
STRETCHING CROSSDRESSER HEELS
Crossdresser heels fitting comfortably as possible can be done several ways one of which is freezing them.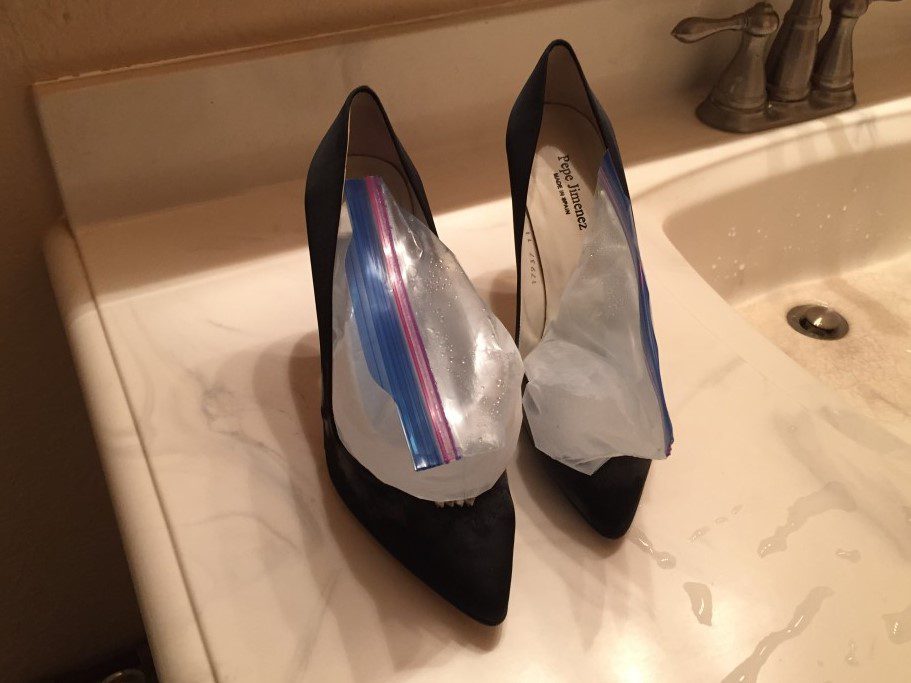 The freezing method where you insert a zip lock baggy into the toe of the shoe. With your hand inside the baggy use your finger to push the corner as far into the toe as possible. Then add enough water to fill the toe area. Make sure the zipper is at the top of the heel area when you are done or it might leak. Then put the shoes in the freezer overnight so ice will form in the toe area. The shoe stretches as the ice expands gently widening the shoe. Let them sit for a couple of minutes when you remove them from the freezer so the ice will melt enough for the baggy to slide out. Repeat several times if you need more stretching but be careful as there are limits to how much can be done.
The second process for stretching crossdresser heels is quicker and works especially well with leather shoes.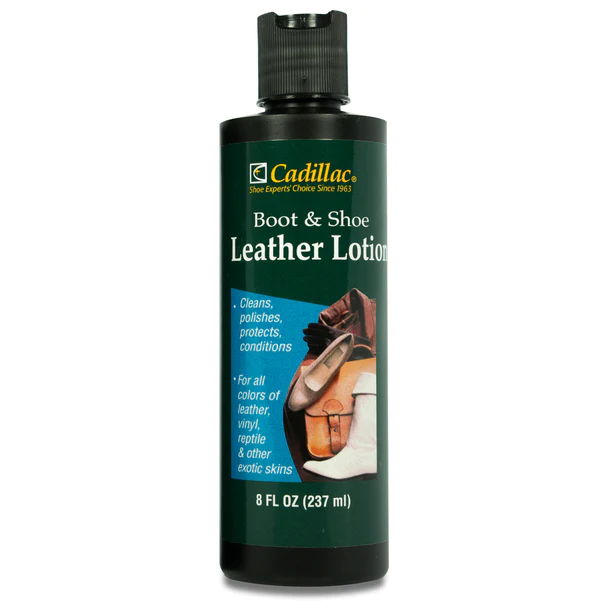 Get a leather conditioner like Cadillac Boot and Shoe Leather Lotion. Rub it in the inside area around the top and sides of the toe area where your foot will touch. Being careful not to get it on the sole of the shoe making it slippery. Let it soak in a little then put more on again allow it to soak in. Then take a hair dryer on high pointing inside the toe area for a few seconds. Be careful not to do it too long getting it too hot it's better to do a it less at first. You can increase the time and temperature if you need to. Next put the shoe on and stand putting your full weight on it allowing the shoe to mold to your foot. Do the same with the other shoe and wear them around before doing it again. This process works great with patent leather crossdresser heels that seem to shrink between wearings. Don't repeat this process until after you have worn them out for an evening because they will stretch even more with wearing. I got carried away with the stretching and now the shoes are too loose.
Crossdresser fingernails are crucial to your feminine presentation and can really make an outfit pop. You can have them match your outfit or go with the popular French Manicure that works with everything. They can be purchased from most grocery or drug stores along with Amazon which has a large selection along with gel tabs to keep them on. I get the gel tabs from them but prefer to get my nails from Talon Nails in Las Vegas. Talon's nails come extra-long so I can custom cut them to my preferred length.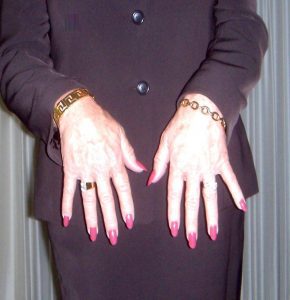 Another reason I like Talon crossdresser fingernails is because they are numbered by size and the number is located on the underside at the base. That way when you trim them to your preferred size the number isn't cut off. If you don't know your size Talon sells an inexpensive sizing tool so you can measure your nail for the best fit.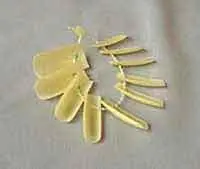 Talon also sells pre painted nails and popular colors again with the number at the base and extra-long for trimming. I prefer the French Manicure for my personal crossdresser fingernails which is more involved and takes some practice.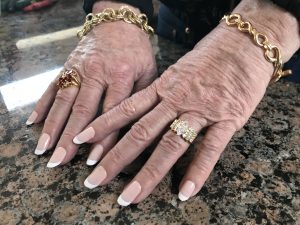 My crossdresser fingernails process has evolved recently because of new technology that has made them easier to make and improved my finished product. My wife bought me a set of French Manicure tabs from Color Street.
I use them on the nails that I purchased from Talon and trimmed to size then painted 4 coats of the French Manicure polish from Amazon.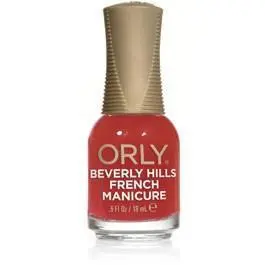 You just peel off the white strip from the Color Street package and position it on the tip of the nail. Then you twist the tab pulling down to remove the excess. You can the lay the clear strip from the package for a topcoat over the nail to seal it. Don't worry if you make a mistake because the strips are made from nail polish so you can use regular clear after you make repairs.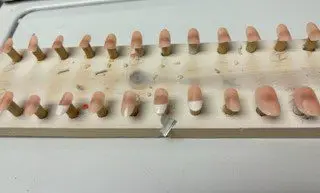 Pictured below are the nails ready for a few touch ups prior to applying the clear coat strips.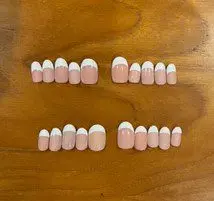 Crossdresser jewelry completes your presentation and can either be elegant or tacky depending on your selection. Most women wear only one ring for each hand unless there is some personal attachment to it. More than one ring will draw attention to your hands which are larger than most women, so you play them down. I recommend one large ring per hand because it will make your fingers appear smaller.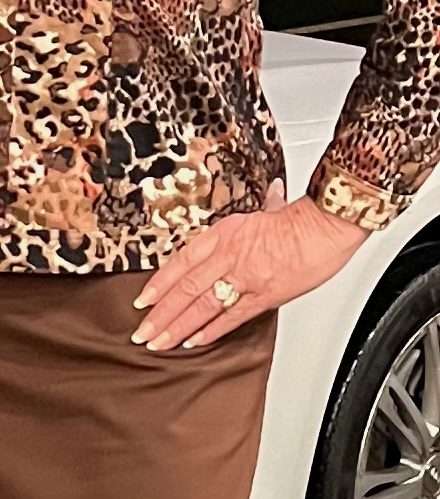 Large diamond cluster are nice for evenings but not so much for daytime shopping etc. I have pretty good luck finding size 10 and 11 rings at Palm Beach Jewelry, but JTV has a better selection. Prices on the rings below range from $25.00 on sale to $80.00. If I usually keep an eye on the ones I like and wait for the sale or clearance to get the cheapest price.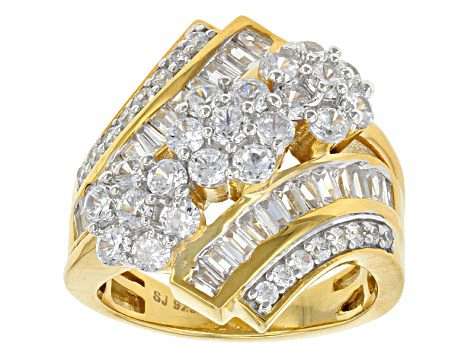 Larger bracelets are also good for crossdresser jewelry although they can be hard to find in your size. I have two solutions for that problem which are cutting down necklaces I buy on sale. I also buy bracelets that are too small and add a larger clasp which adds enough length to make them fit. Sometimes when I cut down a necklace it is too delicate to make into a bracelet. It is designed to be worn around the neck and does not get knocked around like a bracelet does.
CROSSDRESSER JEWELRY BRACELETS
To make the crossdresser jewelry below it takes two necklaces which is why I buy the on-closeout sales. The picture on the left is what I start with only with two necklaces. I can usually get 2 earrings and one and sometimes 2 bracelets out of two necklaces like the right picture. The blue and gold necklace is the delicate in the center picture, so I opted to make a larger necklace out of it. If you are big on necklaces, you can do the same for them.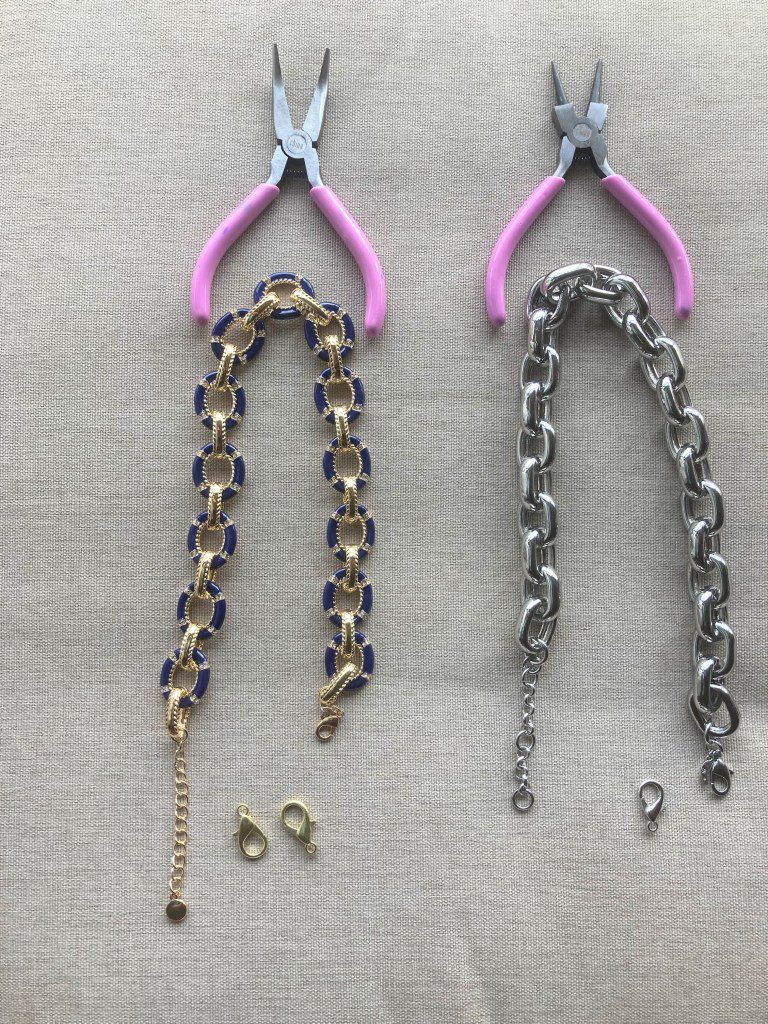 You can find more details on crossdresser jewelry an earlier post crossdresser accessories.