Crossdresser styling is one of if not the most important considerations of every crossdresser. It's more of a process than an action if done correctly because some thought is required to get your best presentation. The purpose for your dressing comes at the front and dictates how you will proceed, think classy or trashy! I don't do trashy so I will leave that to your imagination and continue based on my preferences.
My crossdresser styling is conservative, and my goal is to look classy without regard to passing which, is unimportant to me. Besides classy if I should be so lucky as to be perceived as elegant that would be the crown jewel for me. The fun comes when I start to think about the process of going out for the evening and where I am going. What do I have that is appropriate for the occasion and the weather I will encounter when I get there. I go to my closet and put together an idea of what appeals to me based on my mood and the people I will be with. If I was with them recently, I don't want to wear the same things I wore then. Once I have chosen the outfits, I select the wig that compliments them. This where we get to have the fun that most women don't unless they have a selection of wigs to play with.
Black and white outfits get the dark wig with the white hair in the front. Brown outfits get the reddish-brown combination and blonde goes with everything especially blue, so my mood dictates when I wear it. Shoes and purse are based on the clothing selections along with jewelry such as gold or silver.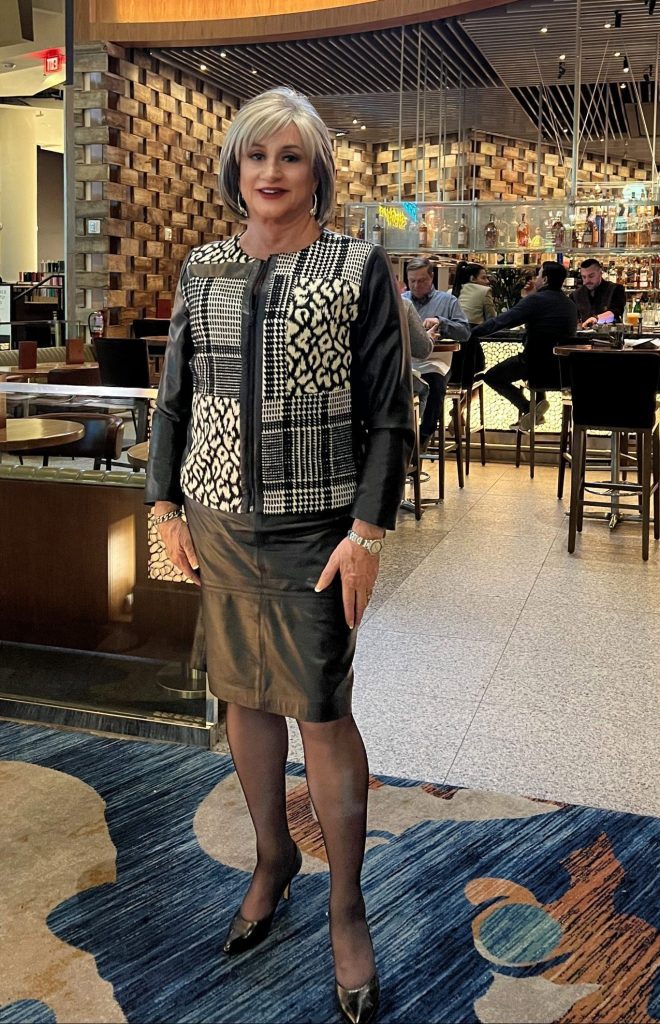 The fun part above is also the easy part because everything that lives in my closet has already been through the crossdresser styling test and passed so it's just a matter of what goes well together. The process gets a little more complicated when you start shopping for clothes, but it can still be lots of fun. I will start literally at the top with wigs and work my way down to the shoes to show you what is involved in my crossdresser styling process.
CROSSDRESSER STYLING WIG SELECTION
The 1st wig below on the left is a long bob style called Tiffany from Godiva's Secret Wigs in California and I have several colors. The middle is Trixie and has a little less volume of hair. On the right is Freedom and is the shortest of the three. The crossdresser styling process here is that I started with the freedom and progressed to the Tiffany experimenting with different short lengths. While Tiffany is my go-to wig for evenings out the other two styles are my choice for daytime shopping adventures. I am more comfortable wearing the shorter style during the day because it attracts less attention being a popular cut with many women. It's easy to fix when the wind blows it around going right back into style with your fingers.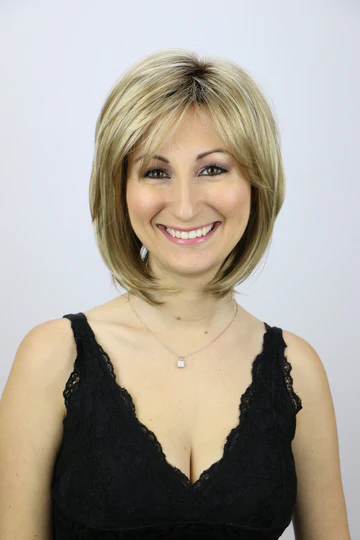 The crossdresser styling selection criteria for all the wigs I use is the same. 1st it comes in a large (23″) cap size that fits my head perfect, 2nd the long bob style frames my face giving it a slimmer look, 3rd by moving the part somewhat against the flow of hair it adds more height again to thin the face.
Tiffany is my favorite but was a long time coming because every single one I tried over the years made my head look like one of those old leather football helmets from the 1920's. They were too small in size and too short for my body, so I quit trying them. My wife however never quit telling I should wear shorter wigs than I was comfortable with at the time. The big change came one night when we returned from the club Christmas party a few years back. When we got back to the hotel room, she had me try on the wig she wore that night which was a blond with shaded roots in a short style. I gave in and tried it on, and she teased it up giving it some height and I was in shock because it looked great. She explained that the added height made my head and face appear thinner along with my body. I wore larger wigs styled wide with some volume to accomplish the same thing, but I had trouble styling them. With the Tiffany, I just shake it out before putting it on then smooth it into place followed by styling it with my fingernails.
This learning process was frustrating and expensive, but it was well worth it because the women's cancer charity received my whole collection of old wigs. The bonus for me was that I immediately started replacing them with wigs that fit correctly for the first time in years. Until I discovered Godiva's all but one of my wigs was size medium and never fit correctly so now the problem is solved.
This post is the 1st in a series that will follow with more information on the crossdresser styling process so subscribe to my website below to be notified when they are published.