FEMALE SIZING FOR T GIRLS
Feminine shape crossdressers T Girl tips for shopping for women's clothing that fits. First you need to figure out what size women's clothing you will need. Don't worry about makeup at this point because it is easy to buy once you know what you need, and we will cover that later.
Feminine shape crossdressers or T Girl padding is what takes your silhouette from him to her.
Women's clothing is designed to fit based on the measurements in three areas bust, waist and hips. To find out what size women's clothing you need measure around your hips (See chart below) and write down that number. Then do the same with your waist and finally across your chest across your nipples.
YOUR FEMALE SIZE
So, let's say your guy measurements are:
Hips-42
Waist-38
Chest-43
The most important measurement for guys is the chest to determine dress size because you have no hips to speak of and little or no breasts. To get a feminine shape crossdressers body you need some measurements.
The bust or chest/band measurement will be the larger number with everything below it smaller until the pads are added. Your bust size will be established when you add breast forms that increase the measurement by 3 to 4 inches. Hip forms will add 4 to 5 inches to the hip size.
If you compare the bust measurements below to the ones above, you will see that T Girl padding has given you a size 16W. You will have to use a waist cincher to reduce the waist size. You will also have a small bust because your breast forms can only be 1.5 inches tall to fit the dress.
T GIRL DRESS SHOPPING
The 18W is a better choice because you won't need a cincher and it allows you a 3.5-inch breast form for a more proportioned figure. Gel hip pads which I strongly recommend only add 2 to 2.5 inches per side to your hips which would make your hips 47 inches. You can always have the dress tailored to make it fit better.
 I recommend Super Gel Products  for hip breast forms to round out your feminine shape crossdressers body.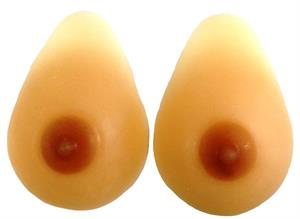 If you are buying a jacket or blouse along with a skirt the 18W would work for the jacket and blouse but the skirt could be a 14W.
Lauren Ralph Lauren | Plus Dresses