Crossdressing balance came into mind this week for several reasons so I thought I would write something on it. Everybody has to balance family time with work time along with other pursuits and crossdressing is no exception. Summer typically results in a crossdressing imbalance for some because warm weather and shorts preclude shaving legs for many. In addition there are lots of activities that crowd out gurly time. Personally I re balance my crossdressing mid September when I try to makeup for lost time dressing during summer. The hair comes off in two weeks and travel plans are being made so next is packing my outfits.
CROSSDRESSING BALANCE
There is more to crossdressing balance than hairy summers in shorts and the beach though. While crossdressing is important its not my only interest hence the need to balance it with the other activities. I just returned from another Duke & Rocco adventure that involved and out of state golfing trip with my BFF Ashley AKA Rocco. I use the name Duke. We traveled through four states playing 5 great golf courses in the process. We have known each other for 30 years after meeting at a Texas "T" Party at lunch with our wives. Since that time we have become great friends and belong to the same crossdressing club.
BALANCING THE CROSSDRESSING
Ashley gets out dressed more than I do because my crossdressing always involves traveling so cost and time are a factor. I achieve crossdressing balance by setting aside a long weekend each month that coincides with the monthly CHIC get together. I can dress 24/7 during that weekend but typically don't preferring evening over daytime dressing. The exception is when we do a Las Vegas or San Francisco trip where gurly shopping moves up in priority. Its not that we don't play golf we just alternate golf in the morning followed by dressing that night. The next day we shop en fem followed by dressing, dinner and many times a show. You can see the balance golf, gurly shopping, dinner & show.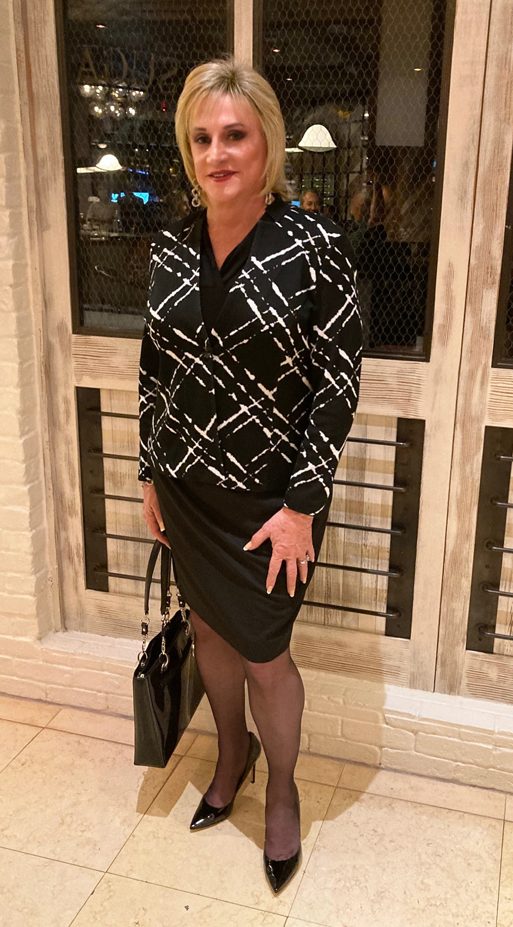 COMPARMENTALIZING YOUR CROSSDRESSING
Crossdressing balance and compartmentalization also apply to myself and others I have known. In my case I compartmentalize my crossdressing with an all or nothing mind set. If I am going to crossdress it is all of nothing dressed completely head to toe. Its once a month and fully dressed or not at all. I know others who wear panties or other women's garments under their male attire to work or other daily activities. They say its the feeling or sensation of the garment against their skin they enjoy. Me too but, its just going to make me want to dress so I avoid wearing them.
Wives and girlfriends also appreciate balance and compartmentalization because it gives them a better insight into what is going on and what to expect. It also lets them plan around or with your activity.
Micki Finn