LAS VEGAS CROSSDRESSING
Crossdressing in Las Vegas for Halloween is something I dreamed of as a kid but was afraid for many years. That all changed about 20 years ago when a few of us took a chance on San Francisco being tolerant or possibly accepting of us. They were and we went back every year since until this 2020 when COVID 19 got in the way. Friends there advised against doing it this year, so we opted for Las Vegas Crossdressing instead. We spent three nights there and had a wonderful time mask and all dinning at great restaurants and shopping during the day. The weather was amazing with the high at 80 and the lows around 60.
NIGHT #1 THE PALM RESTAURANT
The first night we went to The Palm restaurant at the Forum Shops in Caesar's Palace. Great food and service and we were treated like ladies seated in a nice booth with a view of everything. For my first night of Las Vegas Crossdressing, I wore my new zebra skirt that fit perfectly. I paired it with a black zippered jacket I already had. The Micki Finn mask is real not Photo Shopped I had it made for the trip.
  

NIGHT #2 DELMONICO'S
The second night of crossdressing Las Vegas Halloween was at Delmonico's Steakhouse between the Venetian Hotel where I was staying and the Palazzo where Ashley stayed. Delmonico's is a favorite every time we go to Vegas not just for the food and service but the location also. We were seated at a great table next to the wine room with a nice view of the restaurant. Our server was attentive, fun and did not rush us through the dinner.
CROSSDRESSING

LAS VEGAS
Trips for Las Vegas Crossdressing always include lots of walking long distances on hard tile floors for the most part. That's why I pack my fold-able ballet slippers in my purse and change a short distance from my destination. This night I opted for my leopard jacket over a sleeveless dress. I forgot to have Ashley take a picture of me at the restaurant, so I had to take this one in my suite on the timer.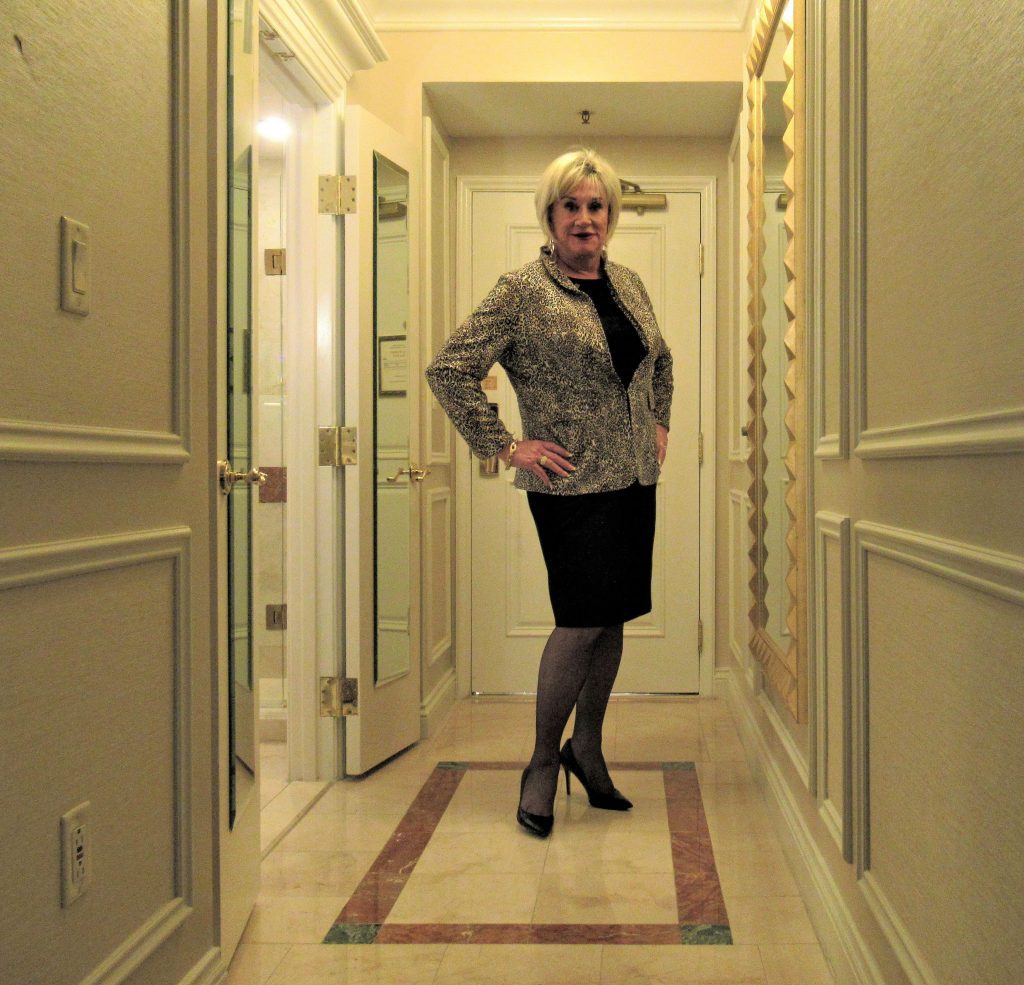 NIGHT #3 COSTA di MARE
Our last night a special occasion because of Halloween and we were in Vegas, so we went to a new restaurant. It is the Costa di Mare located in the Wynn Hotel and was exceptional. It was quite possibly the best food and service I have ever had. Although it came at a price similar to the GDP of a small country. The hostess gave us a choice of taking the elevator or the stairs and I jumped on the elevator. I wish I had taken the stairs because it is the grand entrance to the lower-level dining room. We took the elevator option because the black patent pumps I was wearing were 4.5 inches tall. I ordered them by mistake and love them, but they are too high for Vegas. I did not want to make my Las Vegas Crossdressing entrance going end over end down the stairs.
 Our servers were terrific with a head waiter showing us the large fish cart displaying the fresh catch of whole fish, lobster, scallops, and octopus. We opted for the chef's recommendation that was an assortment of items from the cart. The fish we selected was a mild flaky saltwater fish carved perfectly by one of our servers. Neither of us found a bone on our plates. Ashley talked me into giving octopus another try after my Hawaiian experience years ago. Selecting it from a buffet I chewed for half an hour on what seemed like an inter-tube! Costa di Mare sold me on octopus because it was tender and very flavorful. I guess the buffet is not the best place to get it.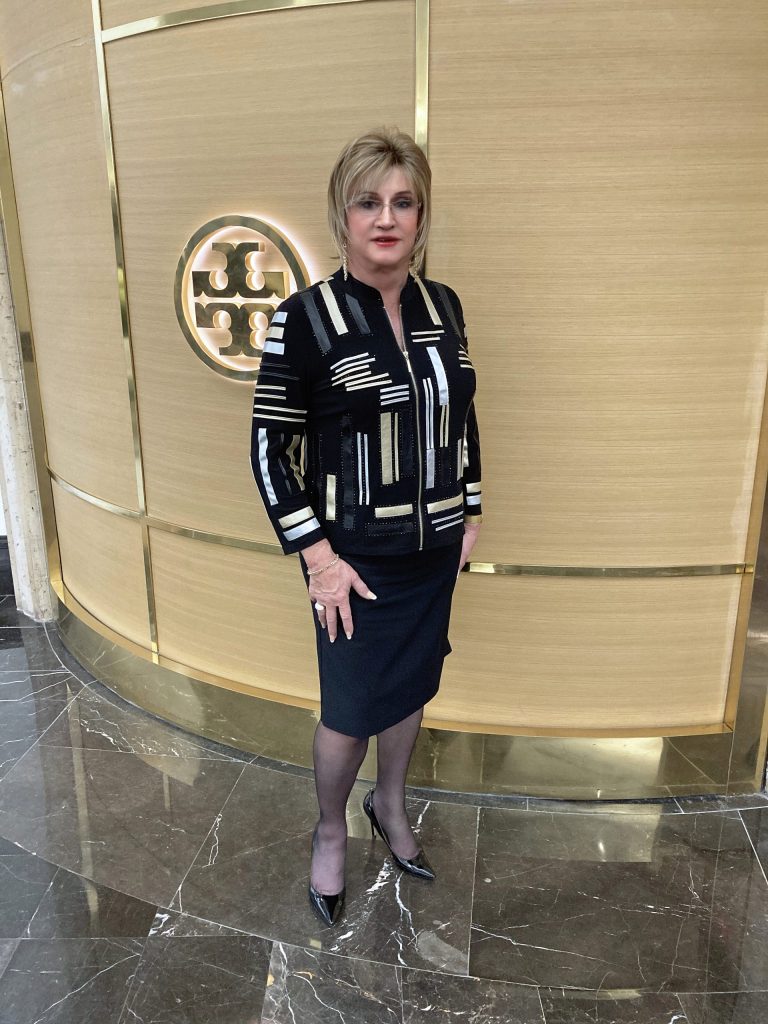 The Wynn had more security than any other hotel on the strip putting us through electronic wand sensors and purse searches. There has been some violence on the strip in recent weeks, so I was concerned about crossdressing Las Vegas Halloween, so they are on the lookout for problems. Most of what I have read about was late at night, so I was not too concerned. One takeaway from the experience is that the American people want their life back! The Strip was packed the streets, the casino's, the restaurants, and even the Showtime Mall across the street. Everybody everywhere was wearing a mask which, was mandatory so I guess people are sick of staying locked up.
Already planning the next crossdressing Las Vegas Halloween trip!