Crossdressed weekends are a favorite with me and I look forward to them all month. The planning never stops along with the shopping which, I do daily. Shopping but not necessarily buying because I don't always find something I like. My crossdressed weekends are always two nights Friday and Saturday each month. Fridays typically I join with friends for dinner and drinks then Saturday for the monthly CHIC meeting. This month nobody was available Friday so I went to one of my favorite places alone for dinner and drinks.

That sounds lonely but it wasn't in that I know the owner who hangs out with me part of the time. This trip I also had a conversation with the women seated in front of me when she turned to ask me about Las Vegas. She overheard part of the conversation I had with my friend and thought I was visiting from Las Vegas. It turns out she has a friend who just moved there who is a crossdresser. I recommended her friend attend DIVA Las Vegas for a crossdressed weekend or the whole week. Unfortunately the convention was the end of October so she missed it. 
My crossdressed weekend Saturday night for the CHIC club meeting was at an Italian restaurant in North Long Beach.  I have been there a couple of times before and the food is typically very good. The pretty much all female staff are very gracious and attentive making us feel welcome. The manager was kind enough to take this picture of me after dinner in the bar.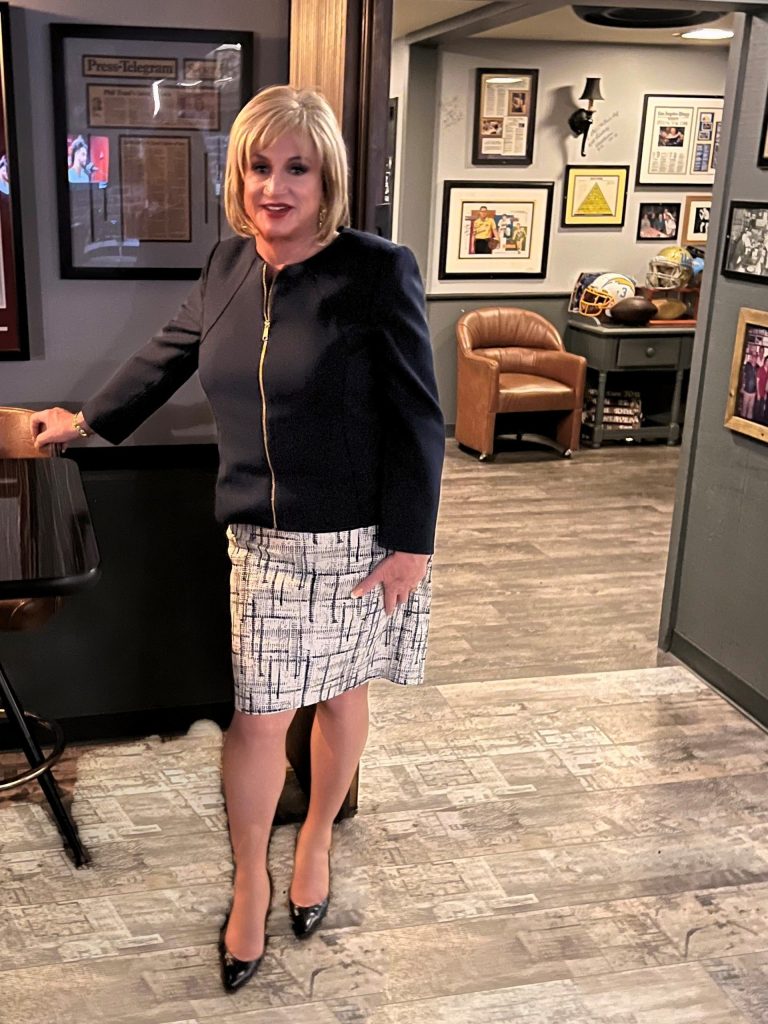 My wife was the inspiration for my crossdressed weekend outfits because she always complains about my lack of colors. Which is to say I wear too much black and not enough colors in my wardrobe. Fridays picture at the top of the page was a brown and cream tweed skirt with a chocolate brown jacket. Saturdays outfit was a Navy Jacket and a vanilla skirt with Navy Blue lined pattern. Of course I had matching pumps and purses for each outfit.
The club Christmas Party is in a little over 3 weeks and my wife will be pleased because there are no black outfits planned for that crossdresser weekend either.
ENJOY,