CROSSDRESSER COLORS
Crossdresser colors you say! What is that? Years ago, I found out quite by chance at California Dreaming a San Francisco crossdressing event. I was wandering around the vendor area looking at all the wares available when I came upon the Donna Fujii Cosmetics booth. There wasn't much going on during the day in that most everyone was in the city shopping. As I was talking to the lady in the booth she asked if I wanted my colors done. I replied to crossdresser colors. She explained that everyone should know their colors especially crossdressers. 
COLOR CONSULTATION
I sat down in the chair, and she explained the difference between cool colors and warm colors. My skin is medium, and I was wearing a dark brown wig so while my skin says warm my hair said cool. She started with cool and placed a piece of silver metallic cloth on my shoulder and asked me to look at my face especially my makeup.  She then placed a gold metallic cloth on the other shoulder again asking me to look at my makeup. When she then removed the silver cloth it seemed like my makeup changed looking much more complimentary
or warmer

. She advised switching to warm tones like blond wigs and warm palette colors for makeup.
CROSSDRESSER COLORS
Clothes such as red really pop when worn with a blond wig.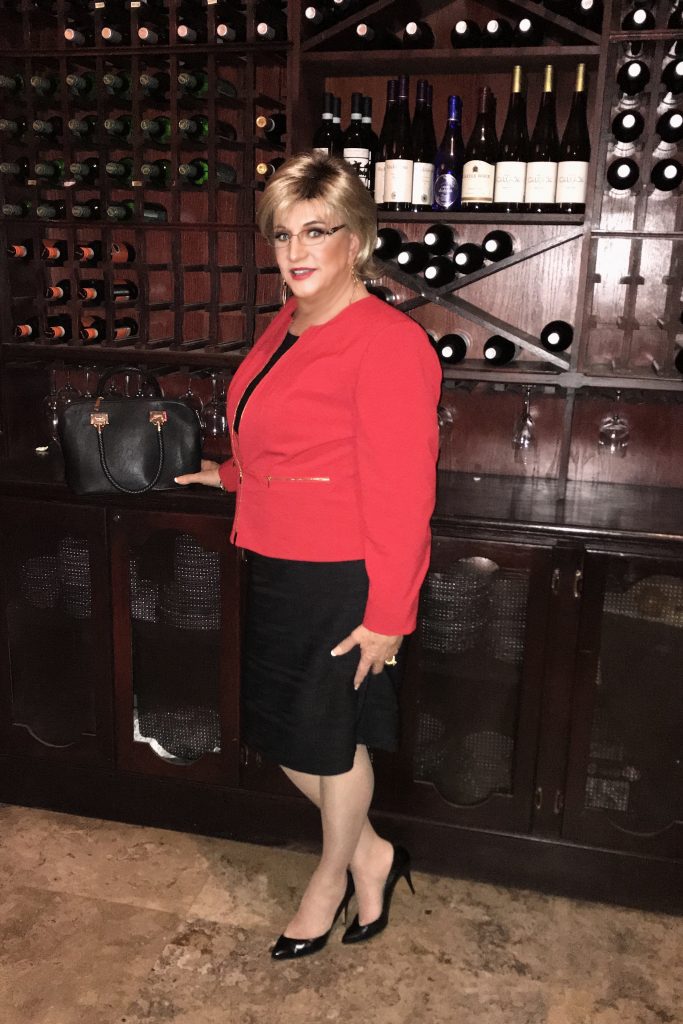 Finding anybody wearing much color is difficult today women, crossdresser's or anyone else.
Yes,

black is slimming but gets old seeing everyone dressed that way.
HAIR AND MAKEUP
The most important colors to get right are makeup and hair so if possibly get the makeup right for your skin, then do the wig color and style. The ideal would be to try on wigs dressed
in

your correct makeup on. Shorter styles are easier to work with because you don't get distracted with the style and concentrate on the wig color complimenting your makeup. I think you will be surprised pleasantly and please purchase a wig if you take advantage of the Solon's expertise.
Another possibility is to attend a crossdresser convention / conference where there is a wig stylist exhibiting but again, if at all
possible,

 purchase something from them. Diva Las Vegas this spring should have a wig company working with them.