Crossdresser gatherings are much different today than in the 1990's when they were in their heyday. Where there were once 600 to 800 attendees dominating one and sometimes two major hotels at the same time. In those early days the hotel was a destination as well as a haven for crossdressers. Some never left the hotel property opting to stay in the safe secure environment there and not risk encountering a negative public outside. They were basically crossdresser gatherings because the term transgender was not popular at the time regardless of where you would end up 30 years later.
Fast forward to 2023 and there are far fewer crossdresser gathering events with considerably fewer attendees only occupying a portion of one hotel. The public has far more awareness of crossdressing today and much more tolerant than years ago so we can just get dressed and go where we want. This has caused the folks who plan events to adapt and do things differently than before. DIVA Las Vegas held each year in Las Vegas has a whole different approach that has made it successful for over 25 years. I have participated in both the event itself and more recently some of the planning for the event. It is referred to as a crossdresser vacation rather than a convention or crossdresser gathering and the format is dramatically different than the old events. Every crossdresser gathering activity is planned by volunteers and coordinated by same. Some activities are sign up and some are just show up. Very few are sign up requested or required but sometimes payment in advance is needed for costly events.
Last week I attended the Desert Crossroads event in Palm Springs that fits the crossdresser gathering description but also transgender gathering as there are any different people attending. It is actually billed as A Lively Fun Social Transgender and Crossdressing Group Gathering in Palm Springs! There is a big difference between this event and other crossdresser gatherings which is you are on your own most of the time. There are no lunches or dinners planned so most gather at the pool in the afternoon then venture out dinner on your own or with friends. There were three hotels listed to make reservations with and all were very expensive compared to other cities. This is because of it being the peak season for Palm Springs and Spring Break being in full swing.
I was very fortunate to have some of my CHIC sisters attending who have been before so my crossdresser gathering was with old and some new friends I met there. They planned our Thursday night dinner for five of us where I met new Friends from Canada Yvonne and April at EIGHT4NINE restaurant where we dined under the heat lamps on the patio.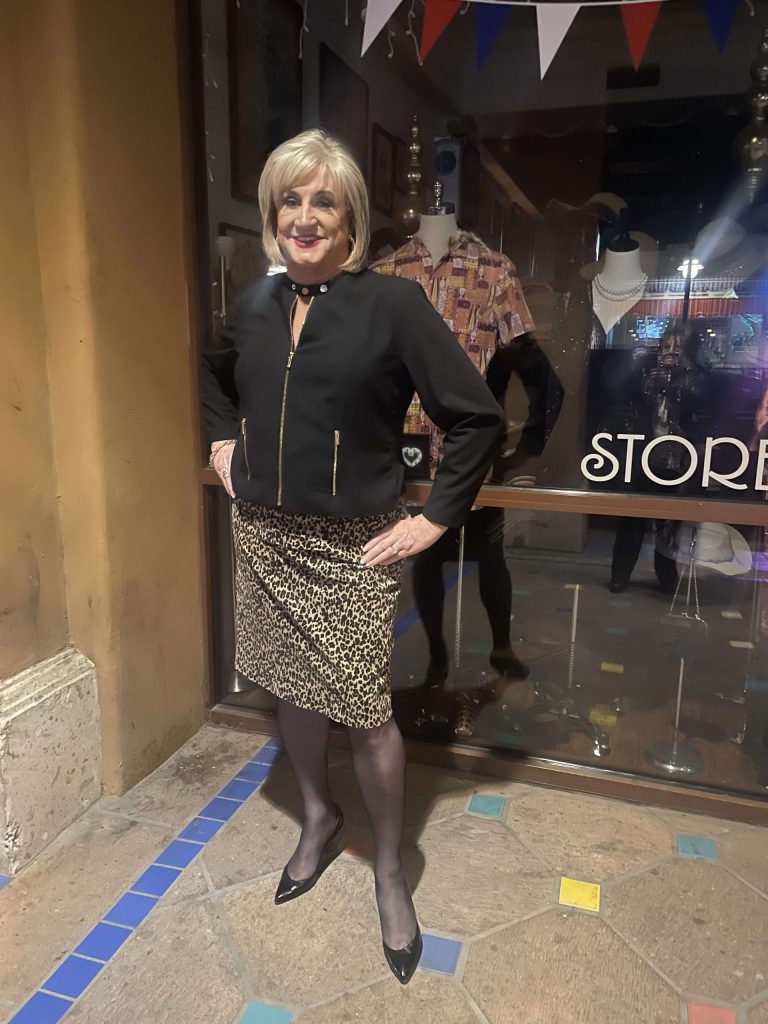 Friday night our group reached 8 people with Kimberly & Susie another couple from CHIC joining us along with a former member Stephanie. We dined at Tropicale a very mainstream place again on the patio but it was much warmer than the night before.
By Saturday night our group grew to 11 as we were joined by Stephanies friends Bruce and Richard along with three ladies from the Vanity Club Tippy, Danielle and Jamie. We dined at the Nest a 50-year-old hot spot in Palm Desert that is extremely popular. The food was very good and service impeccable. Ou dinner reservation was for 6:00 PM and when I got there it was very quiet outside with very few people around. When I walked out the door to UBER back to the hotel there was a line around the corner with people waiting to get in to dance. There were quite a few single guys looking at me which was a little intimidating at first, but I did what any classy woman would do. Pointed my held my head up, pointed my toes, pushed my shoulder back and walked by ignoring them.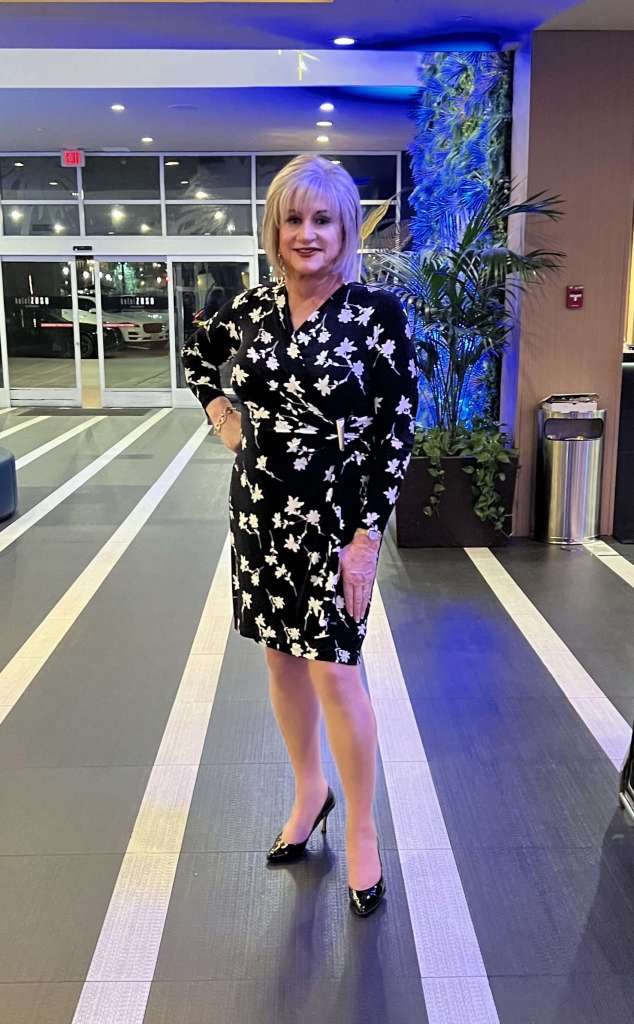 I arrived at the hotel a little after 10 pm where the official Saturday night event was with the live music, but it was over. There were still about 30 people there, so I chatted with a few and then went to the hotel lobby. I ran into Billiejay from Crossdresser Heaven in the lobby, and she graciously took this picture for me.
I was staying over Sunday night and was lucky that some of the girls invited me to a BBQ at a private home of a friend. I ended up having an additional crossdresser gathering as a bonus for the weekend.
In all over the 4 days I did almost nothing relating to the event going out with new and old friends to unrelated places. That said, I did meet a lot of nice people and even a few of my subscribers there which was pretty cool.