Crossdressers like everyone else see things as you go through life that make you remember funny things that happened in your past. Every time I drive by a car lot or other business where they blow air into the tubular Gumby that twists and turns waving its arms all over, I think of Beth.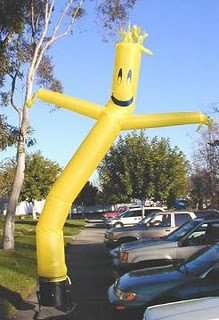 When Ashley, Beth, and I decided to make a San Francisco GURLZ trip I had no idea a crossdresser rescue would be in our future.
Ashley and I had logged many trips to San Francisco over the years, but this was my first with Beth and all was going well. We all met for lunch at Nieman Marcus with my friend Donna Fujii who lives in town and enjoyed the fashion show. Thats when the model with the most incredible blue eyes came by modeling a blue dress of course. The model and the dress were absolutely stunning, and we all were quite taken with them both. Ashley took the bait and asked if the dress was in their inventory at the store and yes of course she was directed to the department. Donna, Beth and I tagged along being mindful where we were and not bothering to check prices. There would be no crossdresser rescue possible for me if my wife found out a bought anything there.
When Ashley came out of the dressing room the dress looked great but was very snug on her. In fairness the model had a lean body mass index measured in decimals which is why she was a model. Also, in fairness to Ashley I would have looked like the Michelin Man in DRAG if I wore that dress the salesman was laying it on thick with the "You look marvelous Dahling" smelling his commission. Thats when it all blew up so fast the poor guy never saw it.
Ashley turned to her right looked at me and I launched the fatal blow by scrunching my nose and mouth in that stinky expression. She nodded in agreement and left for the dressing room, so it was a classic crossdresser rescue and a dead sale without making a sound.
We left for Macy's right after that to much more sane prices and scattered to do our mission. I was off to the Chunky Chic section where they keep my sizes in stock and Beth and Ashley down where the cool girls shop. We rendezvoused in the shoe section later on then headed back to the hotel to get ready for dinner. Dinner was going to be special because we were taking Beth to Asia SF the famous DRAG dinner shows where the servers are also the entertainers.
The second crossdresser rescue started off innocently when we met at the lobby bar of the hotel during happy hour. I always looked forward to the happy hours at this small hotel because it was a great place to meet civilians and do outreach. Beth sat on my right and ordered a Rusty Nail I believe after conferring with the bartender over the ingredients. I don't remember what Ashley and I ordered but most likely it was a Chardonay which was the norm in those days. Our driver showed up and we left for the short drive to Asia SF.
I checked in with the hostess at the restaurant and they seated us at the bar because there was only 3 of us and tables are reserved for groups of four or more. That was really pretty cool because you are right in the middle of the show that starts right after dinner. We ate and the show started and Beth to my right was in the middle with Ashley seated to her right. Beth made a comment on how beautiful all the girls were then gone back to watching the show. A while later I turned to say something to Beth who I found face down on the bar with Ashley making the discovery at the same time. I asked Beth what was wrong, and she garbled something along the lines of she was sooo drunk! Huh? We did not drink that much, and the show was still going strong I wasn't even 9 o'clock yet and Beth is out. It tuned out all she had a lunch was a salad a rookie drinker mistake.
Now comes crossdresser rescue # 2 for the day getting Beth safely back to the hotel. Not as easy as it may seem because she is about 5 inches taller than Ashley and I and not exactly steady on her feet. I left her in Ashleys care and had the manager arrange a car for us then help us get Beth into it. The poor driver had tears in his eyes once he figured out what was going on because he had washed the car earlier and just started his shift. He feared Beth was going to get sick in his car and he would be cleaning it all night. She wasn't feeling sick, and we got back to the hotel after a short drive.
Now the fun began as we got her out of the car and guided her across the sidewalk to the hotel entrance. We needed to negotiate some stairs to get to the front doors with a drunk crossdresser in 3-inch heels. Every time she lifted her foot to go up the step, she fell backwards with us catching her.
With her teetering on the steps, she is now a foot taller than us and leaning so I look like Atlas holding her up in my 4-inch heels. Ashley is on top of the step pulling and I am below pushing, and Beth is swaying back and forth like the Gumby I mentioned in the 1st paragraph. Finally, the front desk staff noticed and raced to our rescue, so the four of us were able to get her into the elevator.
Once we arrived at Beth's room, we laid her down on the bed and explained she was going to have to undress herself. Then we left to salvage our Saturday evening, but everything was closing by then, so we sat in the lobby laughing about Beth's Tribbles. You see Beth wore short pixie type wigs and like all crossdressers could not make up her mind which ones to take with her. She must have brought them all and then had trouble deciding which until she rushed out the door. It seemed like every flat surface in her room had a wig on it that reminded us of the Star Trek episode.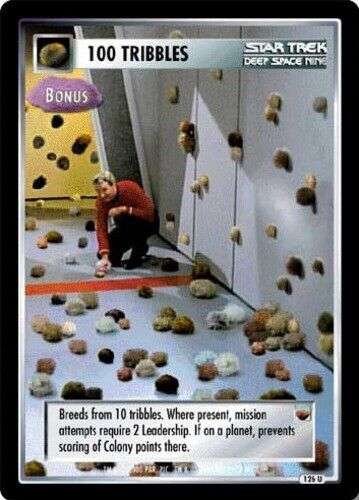 I waited until around 7 Am to call Beth who was driving home that day so she could sleep it off. When I did, she was well on her way home saying she felt fine. I guess tall people are better at hangovers.
Fun memories for sure!