CROSSDRESSER WIFE   
Crossdresser wife support for your dressing is truly a gift. My wife has always been a great help with my crossdressing even though she chose not to actively participate in the beginning. Wigs, makeup, shoes, outfits and accessories are areas she has helped me with. Most things I willingly accepted but the short wig took decades for me to buy into.
CROSSDRESSING WIG
My wig style was pretty much shoulder length through most of my dressing career. Like a caring crossdresser wife support she was constantly suggesting the shorter ones, but I never liked how they looked on me. That changed a couple of years ago when we returned to our hotel from the CHIC Christmas Party. She took off the short wig that she was wearing and asked me to put it on. She wanted to see how it looked on me as it was a complimentary color. I knew what she was up to but put it on anyway. She teased it up a little higher than she wore it and the look on my face said it all. I loved the way it looked but, the wig cap was too small for me. The two wins for her

are

I now was ready to explore the Micki in short hair concept along with she one the argument. Thank God I listened to my crossdresser wife support.
GODIVA'S WIGS
I was fortunate to discover Godiva's Secret Wigs online because they are great quality and come in large cap sizes. I have purchased several large cap wigs from them but what I call a short wig they refer to as medium which, refers to the length. The two wigs below come in large cap size but are medium length.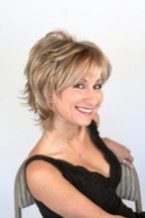 For a Traveling T Girl like myself there is a wonderful advantage to these wigs. I pack them in a large zip lock freezer bag with the wig turned inside out. When I arrive at the

hotel,

I open them up, hold them upside down by the tag and shake hard 3 times. I style them later when I go out with my long fingernails. It only takes a couple of minutes and has cut down my time getting ready.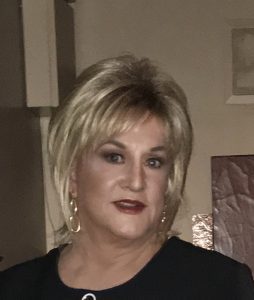 On trips where my wife accompanies me, her crossdresser wife support comes into play and she takes over on the styling which always looks better than mine but, she has been at it longer.
She has also bought me numerous Betty Boop figures over the years because she knows Betty was my first love as a child.

Maybe Betty was the influence that made me dress in the 1st place.
If so,
Thanks Betty!