Crossdressing fun can happen in many ways depending on your definition of fun. One of mine is getting together with my CHIC sisters and their wives every month for a night out. It is always a great time and this last February's meeting was one of the best. February meeting was a challenge because of the COVID shutdowns in California. State restrictions made it very hard to find a place to go out as a group. It was my responsibility as the 2021 president of CHIC to make sure the meetings happened. I planned the meeting myself and was able to find a place at a hotel with an outside patio. It had plenty of heaters and 2 fire pits. Its not the kind of place we normally have our crossdressing fun but you take what you can get! I had another CHIC member make a reservation for 6 people at 7:30 PM. My thinking was that would have us finishing dinner around 9:00 PM and they would not rush us out afterward. Very few people eat that late as a rule so it would be to their advantage to let us stay.
The host manager was in shock when we showed up and was a little on the cranky side because we ended up with 13 instead of 12 but we worked it out. I was concerned the night was going to be a real dud because the menu was limited to sandwiches and salads. They sat us a two tables about 30 feet apart so were walked back and forth visiting and so far it was going OK.
CROSSDRESSING FUN
THEN!
After dinner Tonya peeled off her full length coat and Santa Baby appeared then everything changed.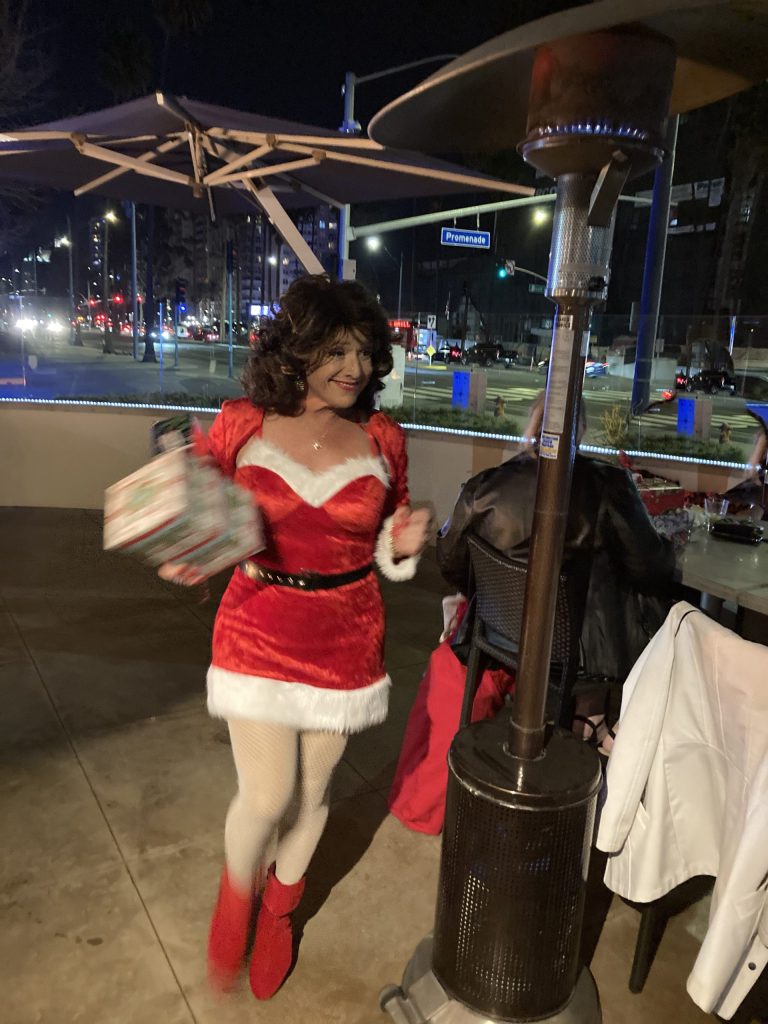 CROSSDRESSING FUN IN PUBLIC
CHIC had to cancel its Christmas party this year like everyone else and Tonya had secretly planned to give everyone fun gifts at the party. Not to be deterred the gifts were delayed but Tonya as Santa Baby delivered them in February. It was a hoot and all of the other patrons were loving the whole concept with Tonya as the star.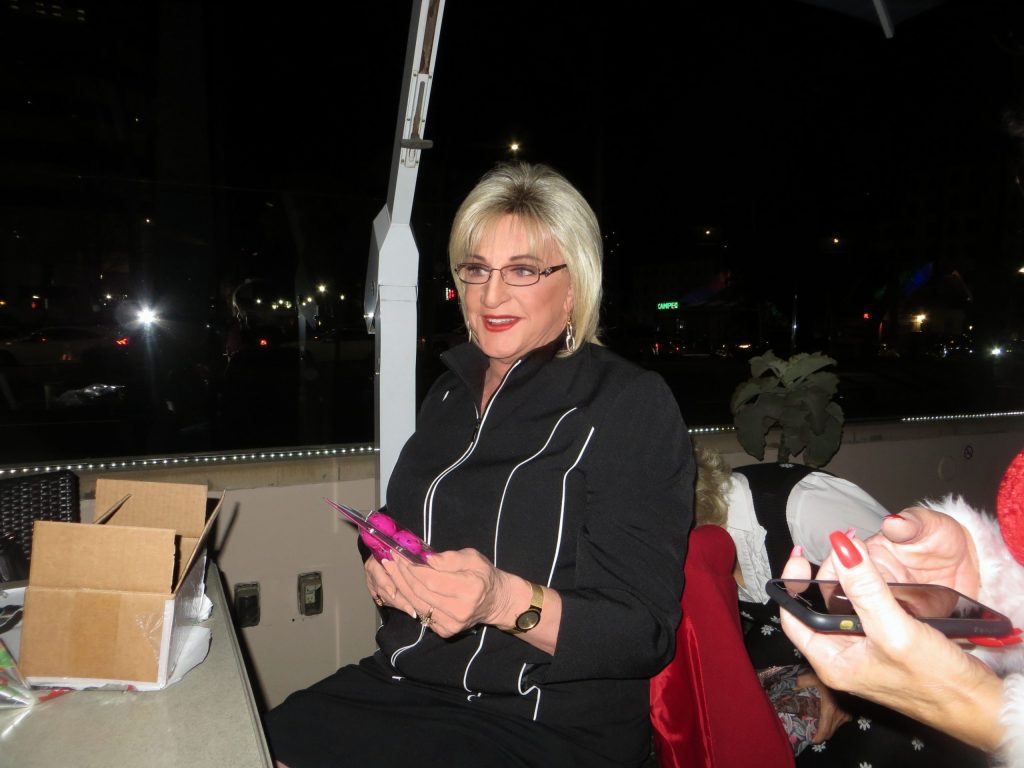 My pink practice golf balls Tonya gave me will be put to good use and might slow my swing down.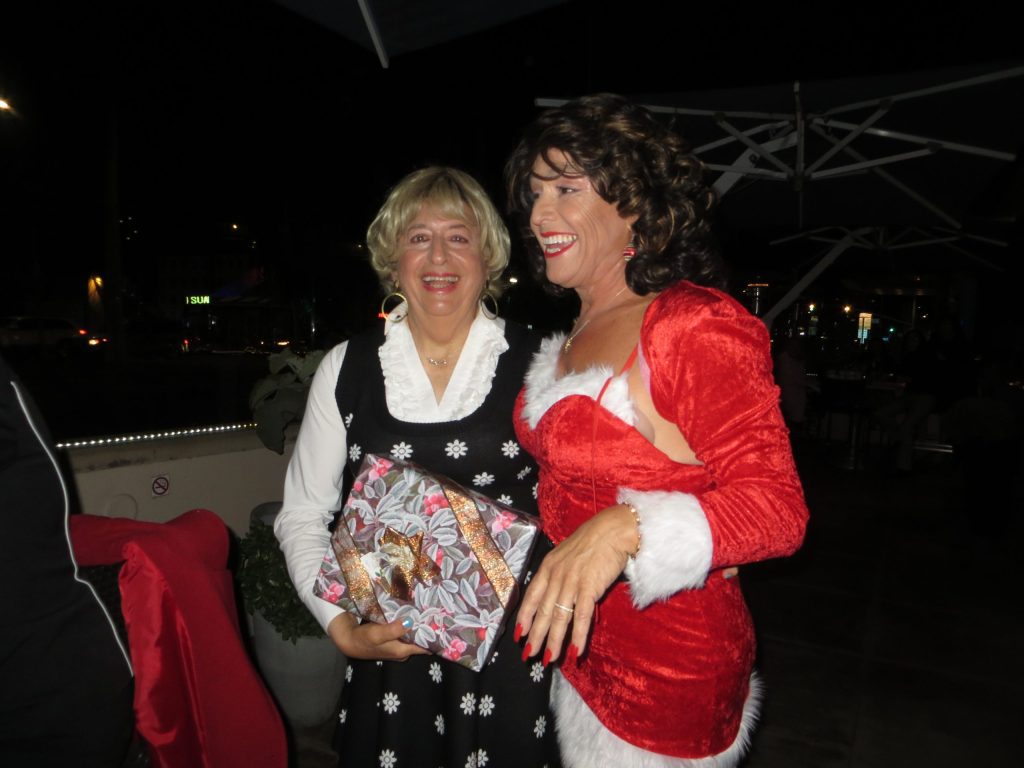 I am not sure what Wanda, (pictured with Tonya) got but all the gifts were poking a little fun at the recipient. Raquel usually shows up late to meetings so she got a clock. All the numbers in a pile at the bottom and across the top it said "What difference does it make I'm always late anyway"
The great news was that they did not kick us out after dinner. Partly I think because the other patrons came over and joined our party. They loved the Christmas in February. They had tons of questions about who we are and what we were up to.
I think the restaurant made more money along with the server tips that night than they have since before COVID struck.
CROSSDRESSING FUN UPDATE
I was a little worried that the CHIC members who made the reservations would not be welcomed back because we took over the place that night. This month I found out when I met CHIC sister Erica at the patio for a drink before Tonya picked us up for the Friday night outing. When we approached the previously cranky manager he greeted us with a smile and said "welcome back ladies". When our server showed up he was all smiles and asked if I wanted another Cosmo?
It might have made a good impression the night of the party when I asked the manager for some trash bags. I told him I wanted to collect all of our trash extra trash from the gift wrapping. We collected all of it so the staff only had to worry about plates and glasses.
Sometimes its the little stuff that makes a difference.
Have Fun!