I thought I would take a break from my usual evening out reports and instead stir things up a bit with thoughts on crossdressing goals. I have read many comments from people online who identify as all kinds of labels, pronouns etc. They typically speak about crossdressing goals of blending in with the women they will be around which seems to be a popular with others as well. I really don't feel comfortable commenting on folks wanting to blend in because it has never been one of my crossdressing goals. I don't suppose there is anything wrong with it other than it seems kind of boring especially with how most women dress nowadays. Denim, tee shirts and tennis shoes or flat sandals are not terribly different than what guys wear daily.
Whoopie!!
It's basically what I am wearing as I write this less the wig, jewelry and light makeup.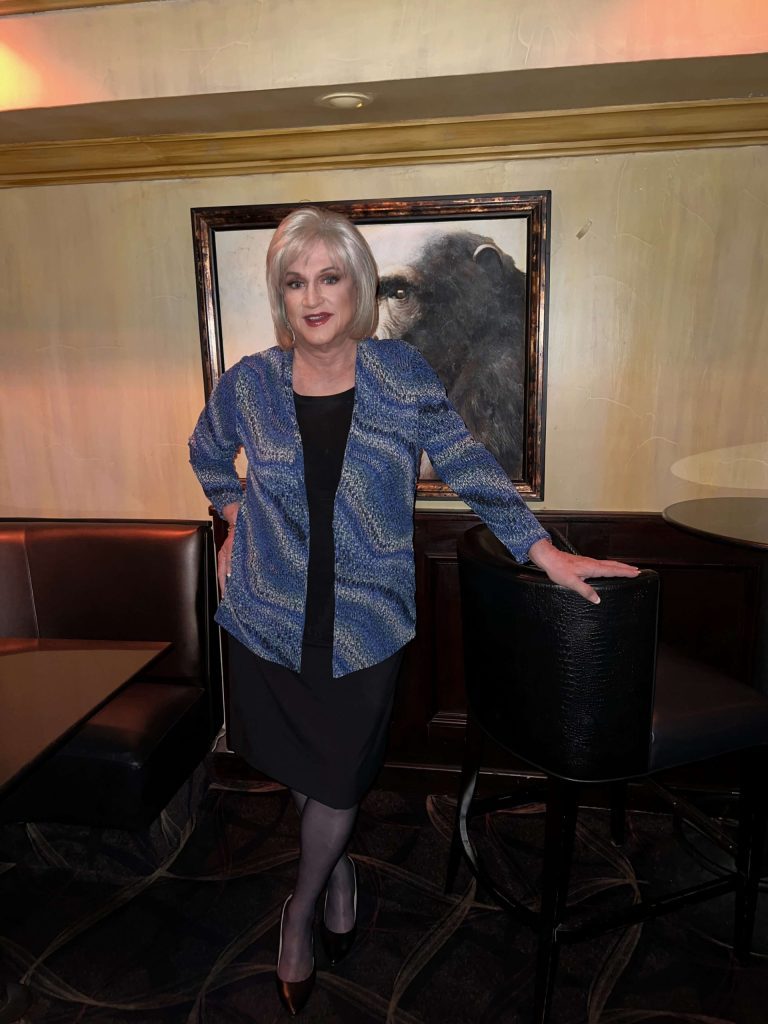 My crossdressing goal is to be accepted by the people I am around, so I dress to impress which makes me stand out, so blending is out of the question. I accomplished that goal this past weekend on both Friday and Saturday nights. Friday night I was solo so chose a safe place that I am familiar with having been there many times. It is a straight mainstream restaurant in a beach town a couple of blocks from the ocean. The local crowd is accepting but others new to the place are sometimes a bit standoffish at first. I anticipate that initial impression because I always use my regular voice in addition to being totally overdressed for a beach place. That usually goes away when the servers greet me by name and the owner comes by to say hello sometimes sitting down to have a drink with me. On this particular night the owner was sitting with his wife and some friends at an outside table and greeted me when I exited the UBER SUV. I went over and said hello to everyone and chatted for a couple of minutes being mindful not to overdo it. Crossdressing goals accomplished right away.
I had dinner at the table they had reserved for me again was greeted by the servers and moved to the bar afterward for a short time. When I left there was a whole different group at the owners table outside which I have met before, so I lingered and enjoyed some conversation with them before heading back to the hotel. Crossdressing goals met again.
Saturday night was different because it was our club meeting, so I was not the only one overdressed. It was purely coincidental, but I again met the owner of this restaurant as I got out of the UBER SUV. I have known him for 28 years, so it is always a very cordial hello. I then ventured inside making the rounds saying hello to all the early arrivals at the bar. One of our members Kimberley introduced me to some ladies from Australia who were so impressed with our club that they wanted to join. Crossdressing goals easily accomplished by all our members. I guess down under they don't have clubs like ours that are approaching 50 in existence. Once again, I used my normal male voice as all the others did and it was no problem. These ladies knew exactly what was going on (guys in dresses) and thought it was great crossdressing goals accomplished again. I hated to leave them but everyone else had gone inside for our dinner and I was the last one it felt rude to stay chatting with them. Crossdressing goals once again accomplished with enthusiastic civilians.
To my surprise the bar at this restaurant closed at 10 PM which is new, so I went back to my hotel for a nightcap. It's a Marriott Hotel so I don't know the owners, but the staff have my drink ready right after I sit down. I have stayed there so many times my crossdressing goals were accomplished years ago. So, as I said in the beginning of this post my crossdressing goals are to stand out and be accepted for who I am. Not just a guy in a dress but one with a crossdressing goal of being genuine and not attempting to deceive anyone.
I have other crossdressing goals, but I feel this one is the most important. What is your crossdresser goal?