Crossdresser resources were very difficult to find 60 years ago but became fairly widespread during the 1990's. They varied from full up boutiques with shoes, wigs, makeup, to fetish clothing. Most seemed to fade away once the conventions started to decline. There were always a few select wig stores and makeup crossdresser resources that were really mainstream establishments catering to women. I never came across a crossdresser resource that was a one stop place that you could get everything that you needed to present in public as a woman.
UNTIL NOW!
In my last post I mentioned the JUST YOU BOUTIQUE in Las Vegas and where I had been to the old crossdresser resource location years ago. I made an appointment for Wednesday afternoon to meet with Amy the owner for a facility tour and an update on her business. JUST YOU is located in one of those commercial, light industrial
developments

where you see everything from silk screening

companies

, and machine shops to small distributors. I think it is the perfect location for a crossdresser resource, because they are on the end of the row of businesses on a quiet street with very little foot traffic.
I was a bit early and went in to met Amy who gave me a warm greeting. I was immediately impressed with the interior which was professionally

decorated.
It was nothing like I expected based on my years of exploring crossdresser
resources clothing stores

 and makeover salons. In fact, it is nothing like the store she had many years ago from what I can remember of it.  Amy explained the business has evolved over the 25 plus years and they don't stock or sell the retail items anymore. The term Boutique does not apply as they are focused on transformations now.
I am not aware of any other crossdresser resource place where you can walk in wearing business clothes carrying a suitcase and walk out in a dress and high heels felling like a fashion model. Think of it as JUST YOU will create a more Confident U to experience being out

En

fem maybe even for the first time. It's a perfect scenario for adding a couple of days before or after your convention for some gurl time.
You can call for an appointment and bring all of your stuff with you to JUST YOU. Then change in the large bathroom designed for that purpose then step into the salon area. The magic begins when Amy selects your foundation based on your skin tone and wig color. I can't emphasize the importance of this enough it makes a huge difference in the finished product. 

She then skillfully preps your face so the makeup will look its best. Finish it off with a wig styling then you are ready to go out for the evening professionally made up.
Pictured below are two of Amy's customers that I have met and have seen how amazing they both look. I know many more ladies who are customers of JUST YOU and all are totally satisfied repeat customers.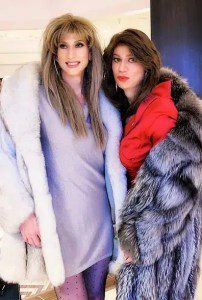 Possibly you want to have a set of nails professionally done on you to complete your look. No problem, Amy has a safe source to send you to for that.
Part of the JUST YOU service is their safe secure list of crossdresser resources free of charge. There is just about everything you need for your crossdressing adventure. Her resources have all been
personally

checked out and are safe, secure, supportive resources for the Trans Community. The list includes various bars, clubs, restaurants, nail shops, wig shops, clothing etc. There are other services they provide that you can see on their website.
JUST YOU
is

far and away the best crossdresser resources I have ever encountered, and I recommend them completely. It is a classy place that you can bring your wife with you without hesitation. In fact, it might be fun to get her makeup done before you go out for the night.