The last night of TG Rocktober was really cool and the organizers Kelli, Davina, and Talene scored a home run with it. Like always we were on our own for dinner so I went to Oscar's a short block away from the TGR event for the night to do a recon for a dinner I am doing for DIVA Las Vegas. Oscar's is named after Oscar Goodman who was a defense attorney for many mobsters and Mayor of Las Vegas at one time. It is located in the Plaza Hotel and of course has a Mob theme. I got there about a half hour early because the current Formula One traffic jams were nice to me so I went to the bar for a cocktail.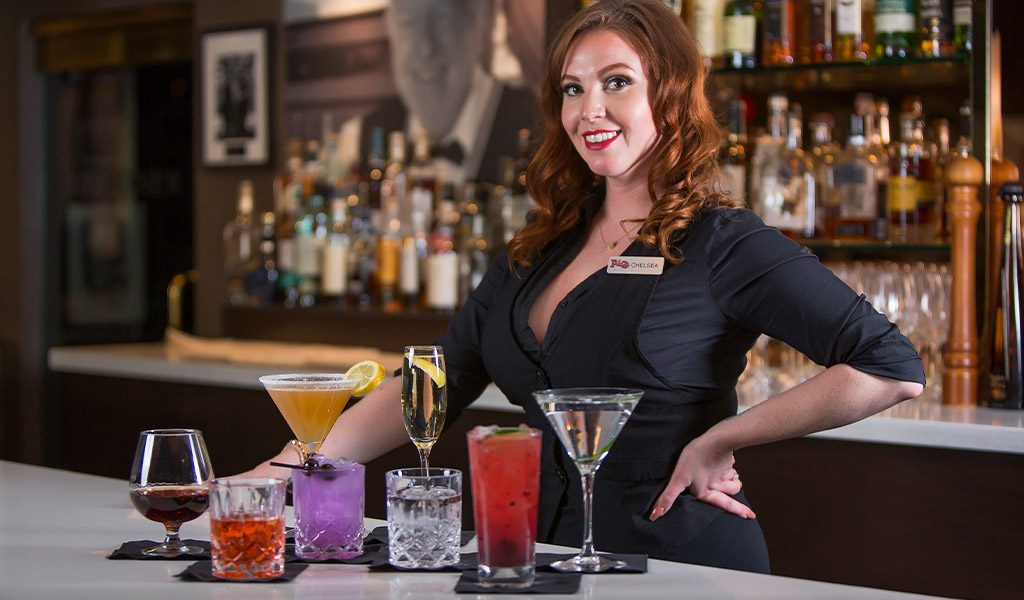 It was a memorable experience and she and makes a great Cosmo.
They sat me on the new patio which was perfect with the cool evening air. I ordered the double pork chop which had a very interesting presentation. It was cooked perfectly and I really enjoyed it but won't describe it hear in case some of my Monday night guests order it.
After dinner I sat down stairs for a while people watching in the Plaza Casino and I must say was unaware they made "T" shirts that big. I am not calling anyone fat but when the shirt doubles as a car cover for a Volkswagen it kinda fits!
Just before 9 o'clock I walked across the street and through the corridor that took me to the Freemont Street entrance. I had never been downtown a night before was immediately blown away by a closed off street of about two blocks with wall to wall people. My destination was the Troy Nightclub where TG Rocktober had reserved the covered patio overlooking Freemont Street for our group. It was amazing looking at the people below and others zooming across at eye level on the zip line. The poor woman below had some kind of malfunction of her equipment first zipping by from right to left and the slowly drifting backward finally resting right in front of us unable to go anywhere. It's funny but the headline on the screen below her is entirely coincidental and has nothing to do with her.
The video below shows the aerial auto club coming to her rescue while the band plays on.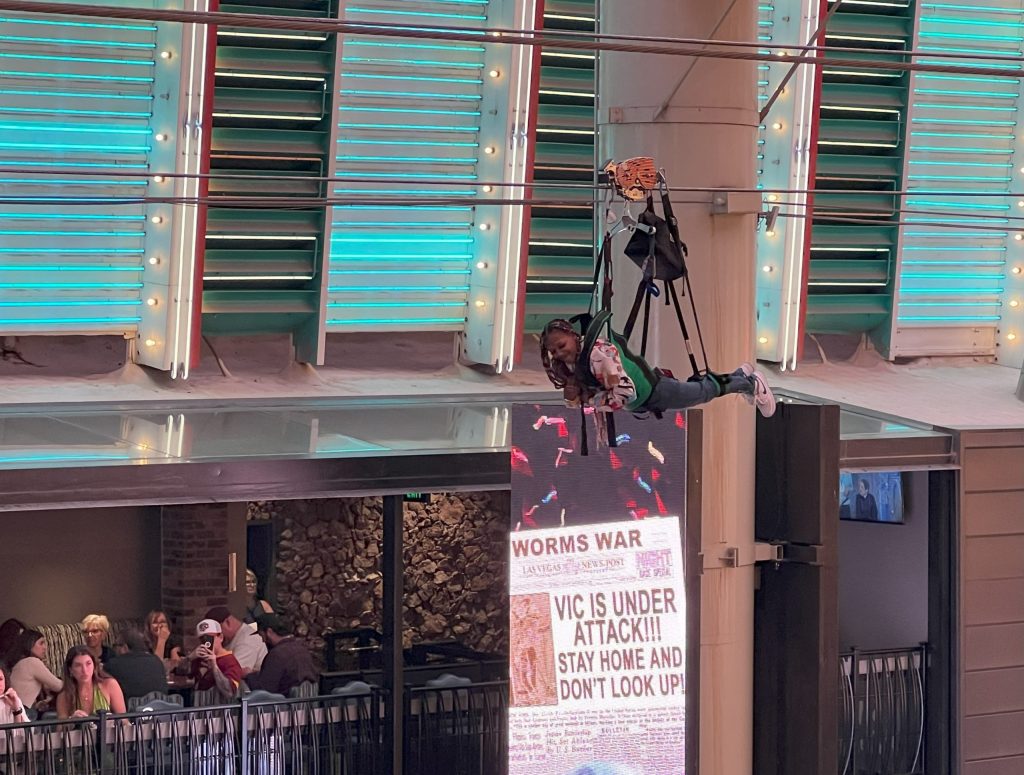 The picture below of me was taken on the private patio with the nightclub behind me. Besides the prime location above the street we had our own bar with two bartenders so no lines to wait in. Again kudos to the planners Kelli, Davina, and Telane.