The second night of DIVA Las Vegas was the official kickoff dinner and as I said in my previous post I did not take any pictures. I guess the staff at the restaurant were overwhelmed or somebody did not show up for work because everything was slow. So much that many people left before the group picture was to be taken so no picture again.
I was the coordinator of the Wednesday night dinner along with Paulette at Ruth's Chris which went very well from what I could tell. Last year I reserved 14 and had eleven show up and this year they would only allow me to reserve 12 without a contract. I reserved the 12 but people signed up very quickly we had 12 in two days so Paulette got a backup table for six then an additional table for 6 which gave us 24 total. When the reservations closed the week before we were at 23 twice last years group. I knew they would probably not seat us all together because they always tell me that. Thankfully they were not busy and seated us at two large tables next to each other and the bonus was I was able to work some Micki Magic and get separate checks for each of us.
The special outfit I mentioned in the last post is the brown combo pictured below. It is all in brown tones because my wife always bitches at me wearing black all the time. Married crossdressers know its a good idea to keep her happy if at all possible so here is to you my dear.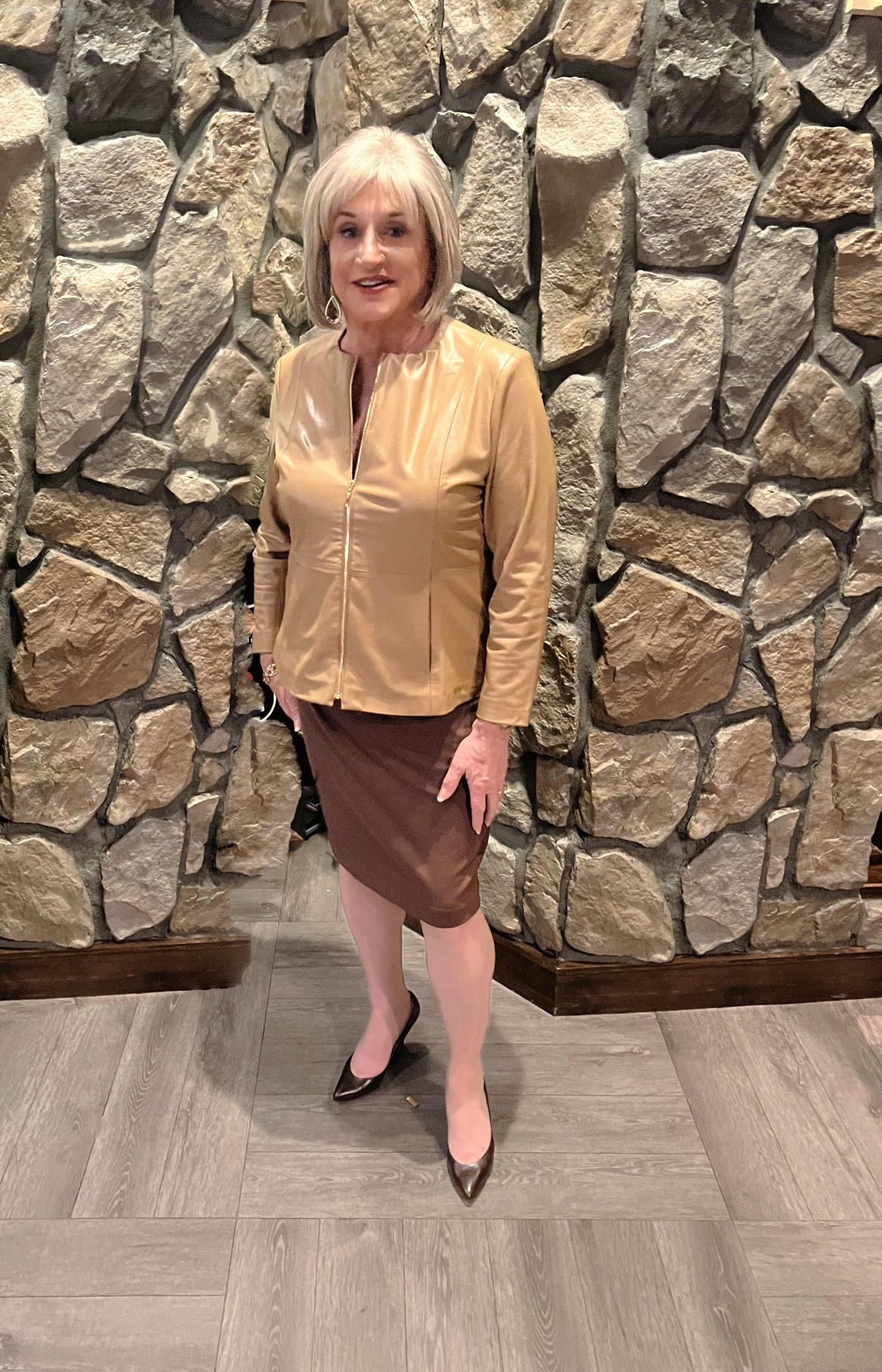 There were many 1st's at this years DIVA like me finally meeting Paulette after corresponding for a year. I have been working with her on her Confident "U" project helping new gurls. Paulette has recruited quite a few inexperienced gurls to come out of the shadows and experience the fun of being crossdressed in public. DIVA Las Vegas has always had a Big Sister program to help new attendees find there way around the event. Paula's Confident "U" is year around and is more one on one with a personal touch. Through Paulette I was introduced to CD's from all over including some from the east coast of the U.S. and several from Canada. I met one of them Monica at this DIVA who was at her very first crossdresser event and we had a nice chat during dinner Tuesday. What was really cool was her makeover the next day at Amy's Just You Boutique. She looked fine on Tuesday but fabulous on Wednesday and I was really taken back when I saw her walk across the room at happy hour. Everything was perfect which is typically what you get when you put your trust in a professional who specializes in making men look like women. They know all the tricks and the results are amazing so I highly recommend going to Just You if you are in Las Vegas. I know Monica will be back next year at Amy's and DIVA for sure especially because she now has new friends to hang out with.
There were many more 1st timer's at DIVA this year but I pretty much only spent time with the ones included in Paulette's group. Some ladies who said hello to me that follow my blog but I don't know if they were 1st timers or not. The success of events like DIVA Las Vegas, TG Rocktober and other TG events depends upon people having a quality experience. If that happens they come back year after year and tell others why which attracts even more people. This is how long lasting friendships are formed which I know from experience with my BFF Ashley who lived about 25 miles away from me. However, we met at the Texas "T" party event in San Antonio Texas over 30 years ago and still hanging out.
It is difficult to be by yourself like the 1st day of school in a new city not knowing anyone and doing it dressed as a woman in a town like Las Vegas is even harder. It all changes when you see a guy in a dress that does not pass either because you are no longer alone! That is why DIVA'S Big Sister Program and Paulette's Confident "U" are such great assets because they are available long before the event begins. Looking back we have all started in the same place trying on women's clothes in secret never telling anyone for fear of ridicule. We have all been the only one knowing our little secret which is a terribly lonely experience but it does not have to be that way. Like the Chinese proverb says "A thousand mile journey starts with a single step" and I say "It's better in heels"
You have to wait until my next post to find out what is with my black hair.