Cross dress Las Vegas is becoming a regular event for me especially this year when I have many trips planned. I was once very concerned about my safety with all of the drunk folks around. Over time I have gotten more and more comfortable but, always vigilant with my safety. Cross dress Las Vegas for me is avoiding the boozing type establishments and sticking with classier venues.
I got off to a slow start day 1 because of the rain preventing me from walking to the stores. I opted instead to check out a makeover salon I had heard of during DIVA last October. I will be doing a separate post for that because it would make this one too long.
The first evening of my Cross dress Las Vegas adventure started at Ruth's Chris Steakhouse at Harrahs Casino on the Strip and it was great once I got there. The journey was not enjoyable and it wasn't my UBER ride but my shoes that was a problem. It was my first time wearing them and they were stretched at the same time I did my silver Christmas Party shoes. The party shoes were perfect and I wore them all night even walking to and from the restaurant with no problems. These black ones were the same style but apparently I stretched them a little too much. UBER dropped me at the back of the casino so I had to walk through the entire facility to get to Ruth's Chris. My left heel started slipping off almost immediately and the right started acting up after about 100 feet. I had to scrunch up my toes to keep them in on which made me walk like I was walking on stumps. I tried to be as graceful as I could but it was funny to a couple of women who were laughing behind me. I'm not positive it was me they laughed at but did not want to find out and ruin my Cross dress Las Vegas adventure so I kept looking forward.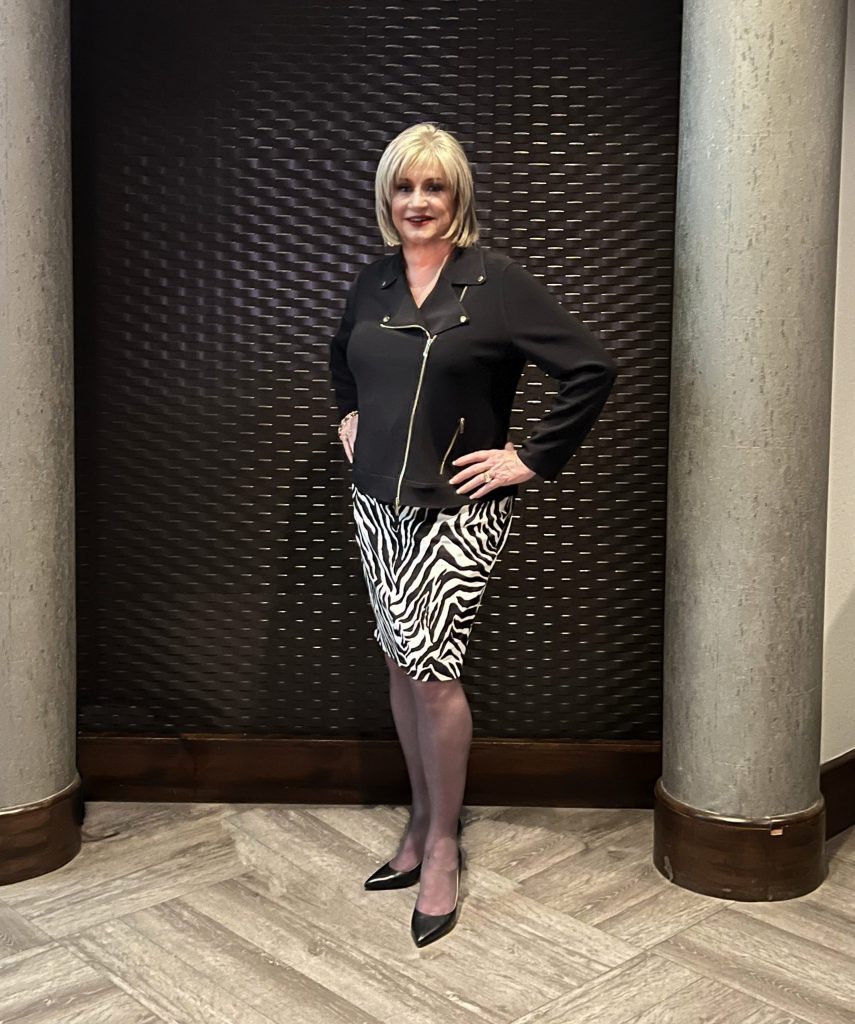 I was able to make the reservation for one person which was great being that I was alone on this trip. Even better than that was I took advantage of an offer I have never seen anywhere before. For $10 I was able to reserve a window table so I could people watch. My table was perfect and my server also perfect never missing a pronoun even though I always use my male voice. He was very professional an attentive making it a great Cross dress Las Vegas experience.

From the UBER car I noticed a shortcut through the garage leading to the Venetian Resort.  I could walk back to the palazzo where I was staying. After dinner I sat in a chair outside the elevator and put on  my folding ballet flats then walked to the Palazzo. Once there it was time for my Cross dress Las Vegas outing to top off at the Rosina Cocktail Lounge. Its a small intimate place with friendly servers and a warm atmosphere and just off the casino floor.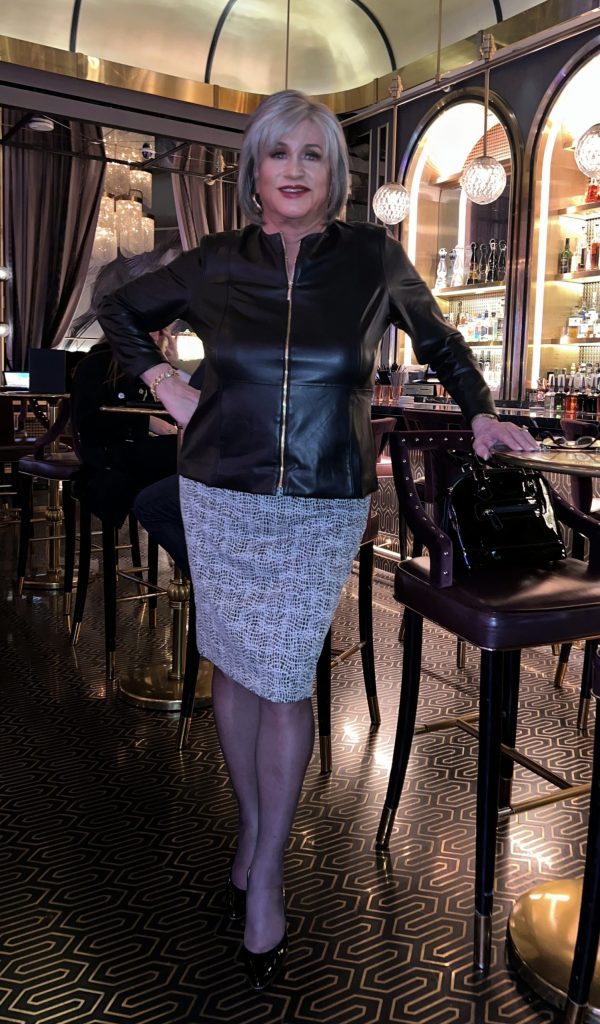 The hostess who kindly took this photo of me was very interested in my Cross dress Las Vegas adventure. Based on the questions she asked about crossdressing and was surprised there are married heterosexual crossdressers. We had a good talk and I was able to answer the numerous questions she asked.

In my next post I will talk about my Cross dress Las Vegas adventure with Stephanie of In2 The Looking Glass boutique.

Enjoy,