Crossdressing safety should be a top priority when going out in public especially if you venture out alone. Things are far better today than decades ago. However, the world will never run out of A-Holes so always be careful. Friday night I was going out to dinner in Long beach by myself, so I picked a restaurant that I know the owner and most of the staff. I always use UBER for my transportation for both my crossdressing safety and avoiding a DUI. I do love my Cosmo's and Friday was no exception both during and after dinner. The place I went has a piano player, so I sat at the bar listening to the music after dinner. The couple seated down the bar started talking with me and we chatted for a while. They invited me to go to another bar down the street with one of the servers I knew. In the interest of crossdressing safety, I declined but they were persuasive, so I agreed to go for just one drink. You guessed it that turned into two and I was feeling no pain. I did not finish the second drink thanked them for their generosity and headed for my hotel. Even though I deviated from my normal crossdressing safety rules I knew the area I was in. It was only two blocks to the hotel through a very busy entertainment area called Pine Ave. The police heavily patrol the area to keep a lid on things, so I felt some crossdresser safety. I walked quickly past everyone and reached the hotel in a couple of minutes safe and called it a night. If I had it to do over again, I think I would politely decline the offer and call UBER.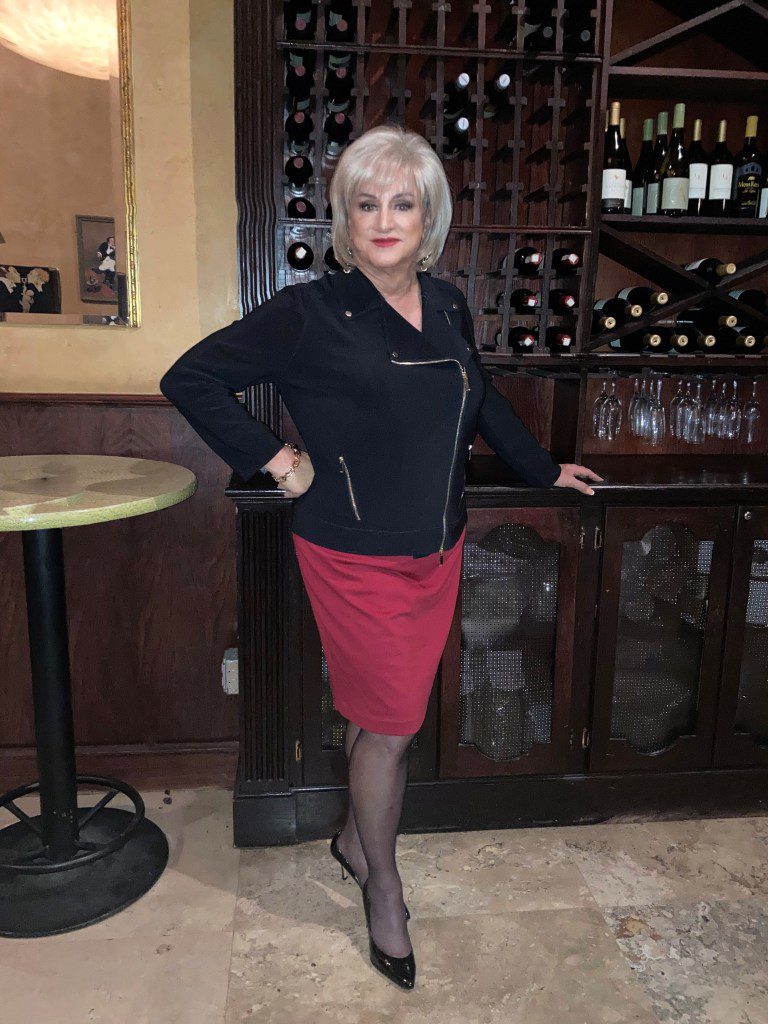 I paired my new black jacket from CHICO's with a favorite red skirt. Really like the jacket which is made from a heavy material that conforms to your body when you wear it.
Saturday night was our monthly CHIC dinner and crossdressing safety was no problem at all because the restaurant was across the street from my hotel. MY BFF Ashley gave me a ride to the restaurant, so I only had to walk back across the street to my hotel after the dinner. I was a good girl Saturday and limited my drinks to three for the whole night and was back at the hotel by 11PM.  Some of the other members invited me to join them at the Irish Pub two blocks away but I steadfastly refused. I did offer to have one more at my hotel bar, but they were set on the pub, so we said good night.

It turned out to be a very wise move because I would have walked back from the pub barefoot. My wife is always telling me to wear something other than black all the time. I went through my closet and dug out my cream-colored jacket. I've had it for a couple of years, but it was an impulse buy and I never had a plan for it. I paired it with a copper mix skirt and bone pumps that perfectly matched the jacket along with a bone purse. I received a lot of compliments, and my wife is pleased I ventured out with no black on. The barefoot part comes in with the pumps because I have not worn them in quite a few years. I checked the heel tips which were worn but still looked to have a bit of life left on them. Not so! The first one broke off in the restaurant and the second when I crossed the street to the hotel. I never heard of anybody breaking two heels on the same night, but I did it. Fortunately, I have extra tips and am an expert at replacing them. I hate to think about the unwanted attention I would have gotten walking barefoot carrying my heels late at night. Not good for crossdressing safety!
Enjoy!