Crossdressing fun with friends is the best especially when they are your fellow CHIC club members. Our latest crossdressing adventure was in Long Beach again at one of our favorite restaurants. Tonya, one of our members is always conjuring up fun stuff for us to do like her Santa Baby event last month. Saturday night this month it was Elvis for a night if singing, dancing and lots of laughing.
CROSSDRESSING FUN WITH FRIENDS & ELVIS

Tonya had confided in me that she was wanting to have some crossdressing fun with friends again. Tonya wanted it to be a surprise so I said nothing. After dinner around nine Elvis walks through the door and the wheels came off. Most of us were somewhat reserved at first being ladies and all. But in a short while we were all singing with Elvis.
To some crossdressing fun with friends includes dancing which about half our group did. Not me, I have not danced since seeing Elaine dance on Seinfeld years ago and recognized my moves. After about an hour Elvis left and one of the members inspired by the singing moved over to the piano. It was a Baby Grand in the corner and she treated us to some fabulous classical music. Crossdressing fun with friends comes in many forms singing, dancing and just hanging out.
The show went on when our bartender took a turn at the piano treating us to some of his favorite songs. How neat to be entertained by such talented people which makes me wonder what happened with me?
For myself and a few others CHIC meetings are actually CHIC weekends as some travel from out of town. Others just want more crossdressing fun with friends so they also make a weekend of it. We stay at hotels and go out both Friday and Saturday nights. Sometimes the Friday night group is as large as the Saturday night group.
FRIDAY CROSSDRESSING DINNERS
We have some favorite places for our Friday night crossdressing fun with friends and we go often enough that we are becoming part of the ambiance. One of our favorites has a back room we call the clubhouse or lounge and we go there several times each year.

The picture above was taken Friday night at the lounge and I think I look pretty relaxed in it.
Years ago we only went to mostly Gay restaurants or private back rooms when home parties became scarce so back rooms are not foreign to us. Now days we have the option to dine with the other customers but sometimes choose the private room for a more intimate dinner. The atmosphere is more relaxed and the conversation better without the loud voices from the bar.
We always have a small group of us that is not ready to go home so we go mingle at the bar with the other folks. That way they get to have some crossdresser fun with friends too its just that we are better dressed. I think we are also having more fun then they are.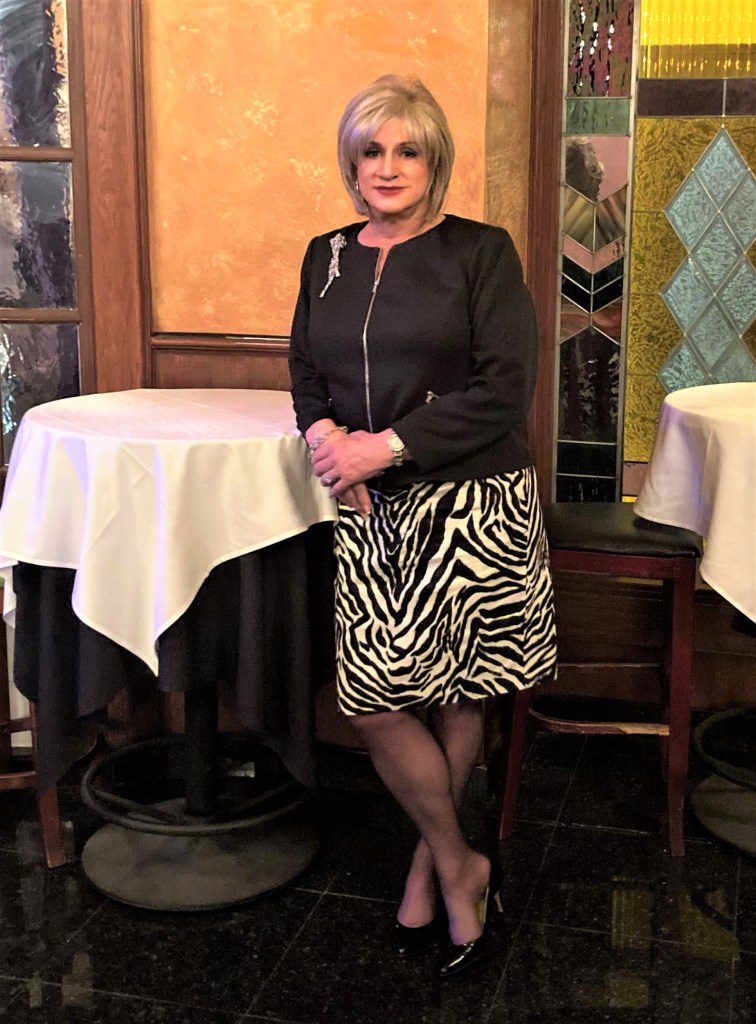 The above picture is very relaxed also like after multiple Cosmos ingested but I like it because it reflects my mood at midnight.
I call it "Take the F*#&king picture already"!
Its time to call it a night.
Enjoy!