Crossdressing isolation is common in most of our stories, but the pandemic has exacerbated the problem. For us more seasoned crossdressers isolation it was especially hard having known it growing up. Then finally letting the genie out of the bottle later in life. Now with the pandemic we were being thrust back into the bottle again. Crossdressing isolation for younger people was possibly worse because they did not know what to expect. They were being shoved into the bottle for the first time.
Besides the not crossdressing there was the lack of socializing in general because of the shutdowns. losing human interaction impact is still being calculated especially with the younger less mature kids. Social gatherings were difficult if not impossible even with family members.
Crossdressing isolation was less of a problem for my sorority sisters in CHIC who are a crafty bunch. We only missed two club meetings the entire pandemic because restaurants in Long beach reopened with the same restrictions everyone else had. They would not do groups larger than 6 people and had outside seating only. So, three of us made reservations for 6 people each at the same time with no problems until we showed up. The manager figured out that something must be up when 12 crossdressers and 6 wives show up at the same time. Not to mention that they instantly became friends chatting their heads off. Tonya asked if we could be seated together but he refused saying that would be an illegal group. Even though there were about 20 other diners on the patio seated at tables of four we did not push it.
CHIC had to cancel our Christmas Party like everyone else that year, but member Tonya was determined to pass out the gifts she bought for everyone. She was wearing a long coat most of the evening until she started playing Santa Baby on a recorder. She then dropped the coat to reveal her Santa Clause dress and put on her hat.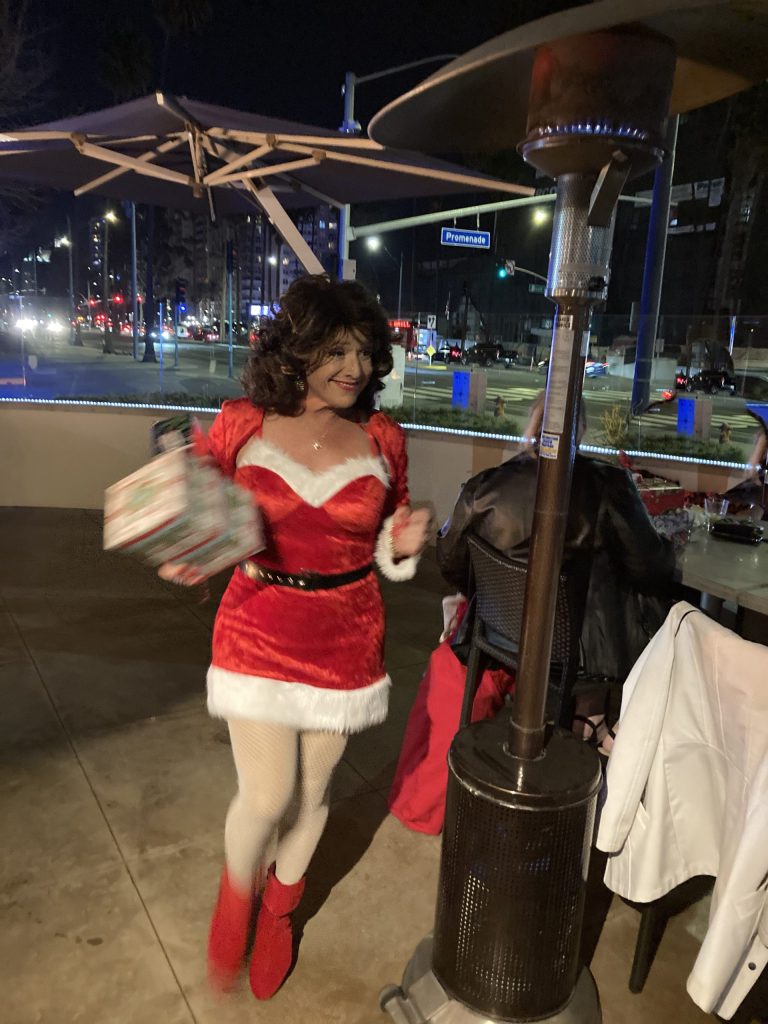 That broke the ice with the civilian customers seated on the patio with us. From then on it was 3 crossdresser groups combined with 20 civilians for a total party. Crossdressing isolation was a bit more manageable after that night and we were fortunate to have so many restaurants in Long Beach with outside dining.
Unfortunately, crossdressing isolation never improves for those who never go out. They settle for dressing alone in the basement. Some are lucky enough to dress in a hotel room when traveling on business but it's still a lonely existence. Some are married and have never told their wives out of fear she will leave while others have a DADT (Don't ask don't tell) arrangement. Still others have an agreement with the wife to lie to her about the CD's outings. I read a post on Kandi's Land blog yesterday were lying and DADT were being discussed. It reminded me how lucky I am. My wife has known since we met and has been on many trips with me to conventions and weekend trips with other couples.
Thinking about the subject prompted me to add some content to my CROSSDRESSER HUSBAND page. I thought it might be helpful for wives to know that crossdressers have many interests other than girly stuff. Crossdressing isolation is only a part of them and there is much more going on that is more mainstream. The wife who reads that page is going to have to believe me. I knew all of the people whose occupations and sports that I reference on the page. I have found it truly fascinating over the years that so many of these guys have done and do such cool stuff. The fun thing is nobody who knows them would ever guess they wore dresses. After seeing them in civilian clothes and then dressed as a woman I know I know more crossdressers than I am aware of. I would never have suspected any of these guys crossdressed. I'm betting the same goes for all of us especially the wives. They may have known one at work or school and had no clue.
I hope possibly if a wife reads my page, she will gain something from it that helps in some way. Hopefully his crossdressing isolation will be remedied by her newfound information.
Enjoy,