The crossdressing process is a subject not often written about but, we all experience it. Many civilians I speak with are surprised when I answer their question of how long it takes me to get ready? It is especially true with the women I speak with because my answer kinda throws them a little. How much time do I have is my answer. Most follow with a clarification question of some sort to which I explain. My crossdressing process can be adjusted to the time I have to get ready like when I have a 7 PM dinner reservation. If I check in the hotel at 5 PM its full throttle until I am done but odds are I will forget things and not be elated with my presentation that night.
On the other hand if there is nothing on my schedule for the day and I have 8 hours to play with the crossdressing process will use most of that time. Its the crossdressing process that most of us really enjoy and the satisfaction of seeing Duke transformed into Micki is what it is all about. This is a time when I can experiment with different makeup techniques and have time to abandon them if they don't work. There is still sufficient time to start over and not be late to dinner although, sometimes its pretty close.
On day 3, the final day of my Las Vegas crossdressing adventure I took a slower pace. I was done with most of what I wanted to accomplish on this trip and the other stuff could wait. I went out to lunch dressed as Duke which takes about 20 minutes start to finish and had lunch at the mall. I was back by 1 PM and because my friends Tonya and Nell were joining me for an early dinner, 6 PM and show I started the crossdressing process early.
First off I hooked up my Bose speaker to play my ABBA greatest hits followed by Shania Twain. Ideally when Shania starts FEEL LIKE A WOMAN I am ready to go out the door. The song dictates my rhythm as I walk down the hall.
Everything in my makeup kit is organized in sections which makes the crossdressing process go much smoother. Magnetic eyelashes have reduced the crossdressing process considerably eliminating wet glue problems. Gel tabs for my false nails (Thank you Erica & Sherri) is another huge time savings. I was ready in 3 hours this night which gave me time to make sure everything met my expectations.
I took UBER to meet Tonya and Nell at Del Frisco's Double Eagle Steakhouse just off the strip. Getting their early I went to the bar and ordered champagne to start the night slow. Holding off on the Cosmo's made sense at least until dinner.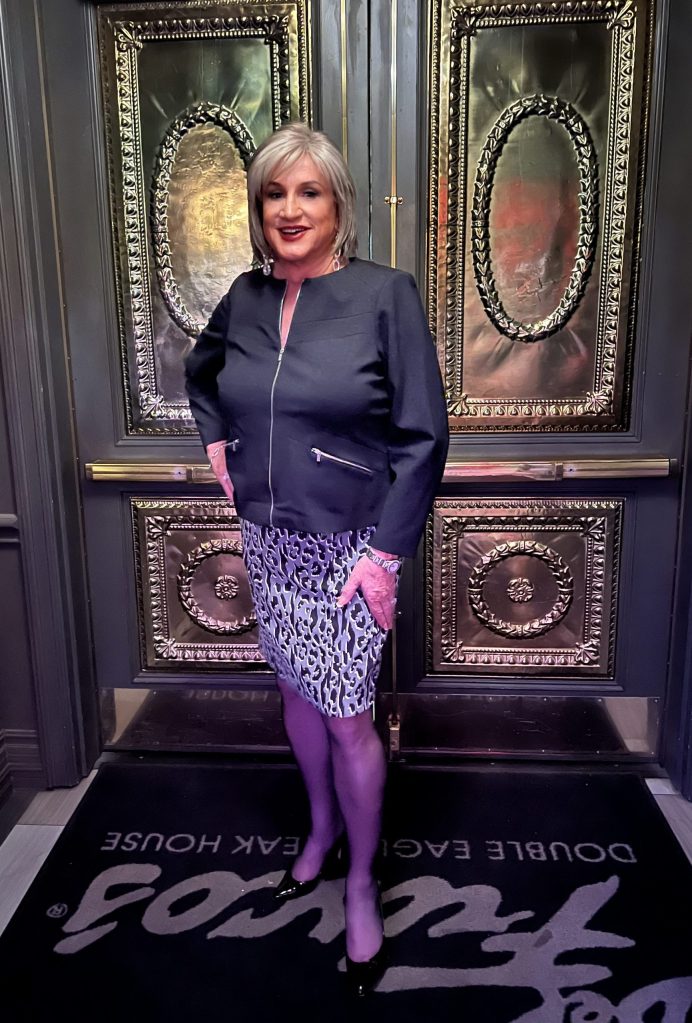 Dinner was exceptional and I threw the gurlz a curve when I ordered the Sea Bass at a premier steakhouse but, I was tired of steak on this trip. It was very large and cooked perfectly the way I ordered it. We had time to kill after dinner so we went to the bar and listened to the piano player before heading out the our show.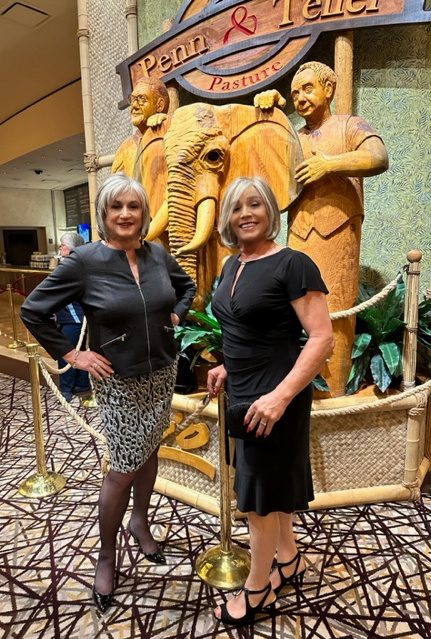 The show was Penn and Teller who have been around for a long time but I had never seen them before. I knew it was a magic show but unaware it was also a comedy show. The magic was really entertaining and the comedy creative and really funny. I highly recommend the show its worth the trip to the Rio to see it.
After the show Nell drove us to my hotel where we had nightcaps and destroyed my firm intention to be in bed by midnight. It was the perfect way to end a crossdressing adventure with great, food, great entertainment, and great friends.
Enjoy,