I am in Long Beach California for the monthly CHIC meeting and displaying a bit more color. I just could not pass up this teal jacket when I saw it. The fit was perfect and the cut very flattering and I got many great comments about it.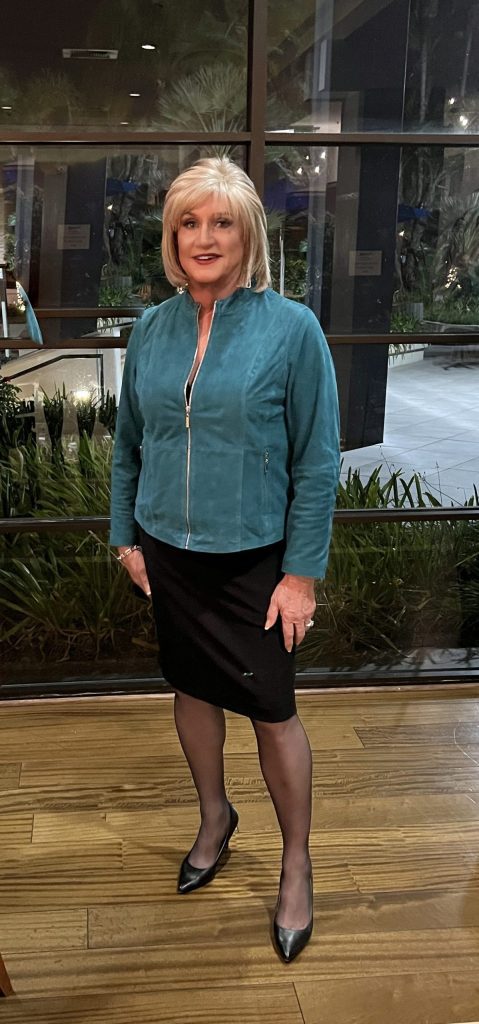 The picture above was taken in the Marriot Hotel Lobby where three of us were staying. Then our UBER chariot arrived, and we were off to one of our favorite places on Naples Island for dinner and hang out with some locals. We had a great time interacting with the other customers along with the owner and staff. This is one of the things I enjoy most about my crossdressing adventures although it has changed over the years. Years ago, most of the questions from people were about my crossdressing and if I was Gay or not. Most were surprised to hear that I am married with kids and all that usual stuff.
Now the topics are more varied like the economy, travel much the same as conversations anywhere in the world today. I still pick up on people I don't know reactions when the listen in on he conversation between myself and another customer. It sometimes starts with a surprised expression then curiosity as they get past my male voice and pay attention to the conversation. It is a real treat when they take more of an interest and join the conversation. Last night one conversation was about the veterans I knew who fought in WW2 and how they never spoke to me about their experience.
On this Veterans Day I thank them for the freedom I have enjoyed all my life and the ability to have the crossdressing experiences I cherish so much.