Mature crossdressing adventures are something that I look forward to each month. In addition to my monthly CHIC club meetings, I occasionally sneak in a trip to Las Vegas or somewhere fun. This month I was able to put together a mature crossdressing adventure with my BFF Ashley in Las Vegas. We took advantage of the weekday rate at the Palazzo Resort for a few days of shopping. The Fashion Show Mall with tons of stores is right across the street from the Palazzo. It's a quick safe walk over the bridges to the mall and we usually start with lunch at one of the many restaurants there.
Over the last year I have been more and more disappointed with what stores were offering and this trip was the worst yet. The Fashion Jewelry section was desolate with displays half or emptier than usual. Ashley pointed out that the inventory is probably sitting on a ship offshore waiting to be unloaded. The clothing and shoe situation wasn't much better with the displays spread farther apart to disguise the lack of inventory. On a positive note, my wife was happy I spent very little money again this trip.
I made up for the lack of shopping with my mature crossdresser adventure dinner excursion to Majordomo Monday night. I have wanted to go there for some time for the steaks but ended up ordering Chilean Sea Bass.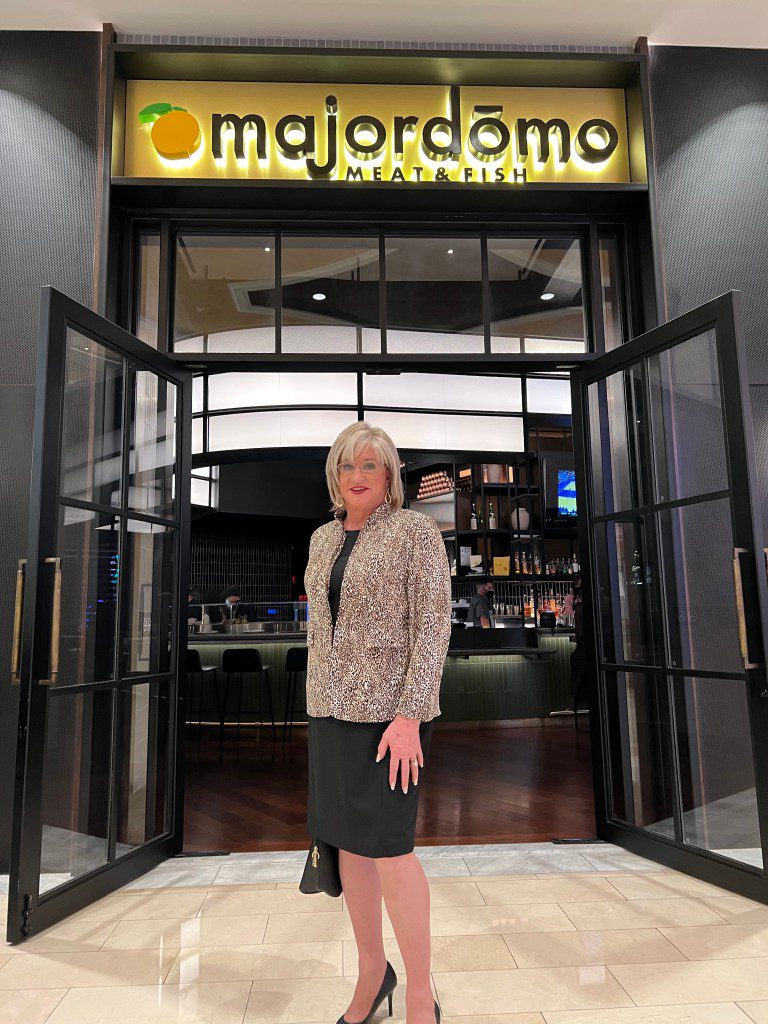 One of the hostesses was kind enough to snap this picture for me at the restaurant entrance.
Tuesday night at Del Frisco's Double Eagle restaurant was another mature crossdressing adventures bucket list place for me. I had been to the one in Dallas but never the Las Vegas location, so I was looking forward to it. Dallas was VERY conservative when I was there in the 90's but I did not know what to expect with Las Vegas. It looked like the same thing in Vegas because everybody was nicely dressed due to their dress code requirements. Not really sure how conservative the patrons were but we were treated very well received and given a nice booth. Our servers very professional and attentive with the food very good. It was nice to be at a place where we were not the only well-dressed women in attendance for our mature crossdressing adventures
.
 
We very much enjoyed the food and service at Del Frisco's and I am sure we will be back for another mature crossdressing adventure.
ENJOY!