VEGAS CROSSDRESSING DAY 1

Vegas crossdressing has been occurring for me more frequently than I ever expected. Crossdressing Christmas parties like mine with CHIC will probably be cancelled if they have not already been. It is a huge disappointment for all the members. I think its the first time it has happened in the clubs 46-year history. The gowns will spend another year in the closet unless somehow an excuse materializes to wear them before next Christmas. I mitigated my disappointment by taking advantage of great rates at the Venetian Resort in Las Vegas for 4 nights and 3 full days.
I arrived early enough on Wednesday to get ready and go to CHICA in the Venetian side of restaurant row. Chef Lorena Garcia created a unique Latin American menu for the restaurant. They treated me wonderfully with a great table and service with the manager buying me a Cosmo.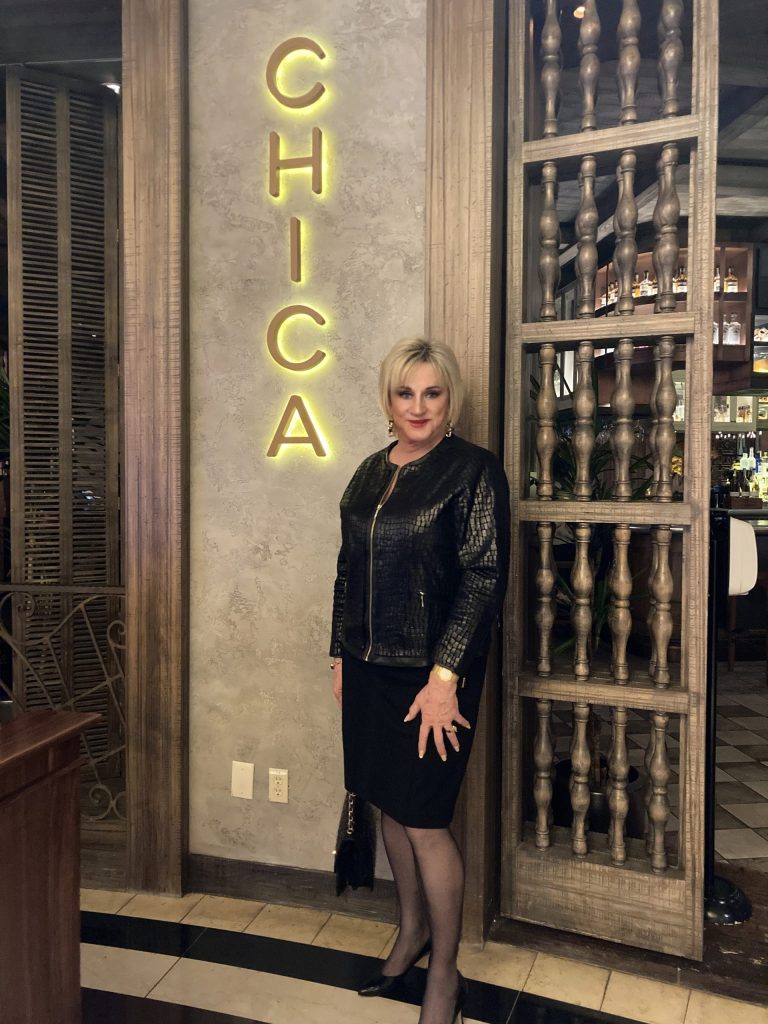 VEGAS CROSSDRESSING DAY 2
Thursday morning, I was off to the Fashion Show Mall across the street for some Vegas crossdresser shopping. I had a quick lunch at Maggio's Italian restaurant before I started. I only came away with one jacket which was disappointing as I had high hopes for a big haul. The fact that I found so little could mean that I already have so much. That is a pretty accurate statement in truth. Everything was either the wrong cut for me or I had something almost like it. Vegas crossdressing and shopping is great fun, and they treat you very well helping with trying on outfits and sizing questions.
The day ended up being very special because a CHIC member friend Tonya with her wife were going to be in the Las Vegas area. They joined me for dinner Thursday night at the new Bugsy & Meyer's Steakhouse located in the Flamingo Hotel. A great dinner with good friends and laughs all around. After dinner we retreated to the bar for after dinner drinks.
VEGAS CROSSDRESSING DAY 3
I was moving a little slow Friday morning, so I met them for a late lunch before they left for home again at Chica's. After saying our goodbyes, I was on my own again for dinner, so I went back to my room to get ready. Friday's dinner was back to Smith and Wollensky's steakhouse in the Grand Canal Shops within the Venetian Resort. While I was eating alone that night it wasn't lonely because I had the same server as BFF Ashley, and I had in June when we were there for the Vegas reopen. She has a great personality and is as chatty as I am, so we had a great time. She even had me judge the Cosmo contest between the two bartenders working that night. That was fun!
VEGAS CROSSDRESSING DAY 4
Saturday, I opted not to crossdress during the day in that I covered every inch of the mall Thursday afternoon. The plan was to go get a messy burger as Duke then cruise the canal shops for something interesting. Didn't find anything in the shops and opted for a messy chicken sandwich instead of the burger.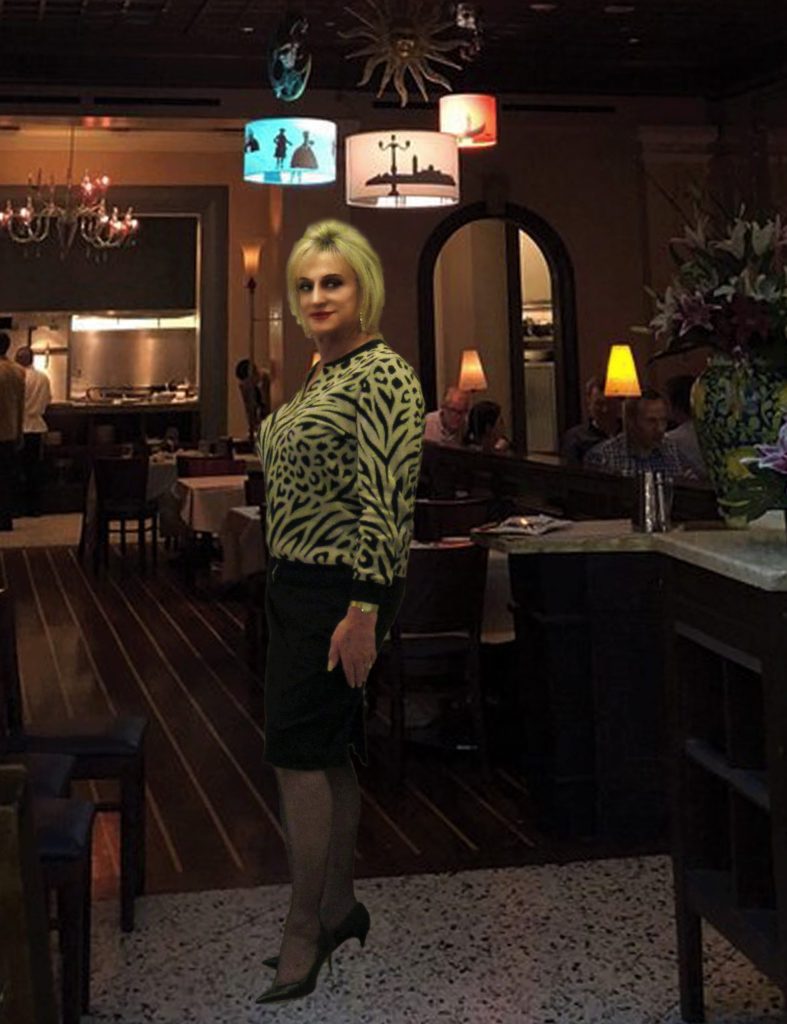 Saturday night was a change for dinner also after so many steak houses Italian food sounded pretty good, so it was Canaletto located on the Grand Canal overlooking St. Mark's Square. The food was awesome with the beef mushroom risotto followed by Cannoli Siciliani for desert and of Cosmo's a plenty.
Now that I have crossdressed in Vegas over 20 times I have come to the opinion that nobody their cares, provided you act like a lady. Wearing a mask has made it interesting because people can only look at your body and mostly your eyes. If your eye makeup looks good, they will probably take notice and keep going. Everywhere I went the proper pronouns were used and the people I met were very nice. It kinda makes me wonder if I am fooling them for a while but, I always let the cat out of the bag with my voice. Whether they were fooled or not they treat me great so who cares? My favorite encounter was walking down the long hall from my room (See picture above) to the elevator when a 30ish woman was walking straight toward me. I reached the elevators first and pushed the button wondering if she was going to follow me into the elevator. She did but said nothing to me then the elevator stopped at every floor going down with nobody getting on. I commented to her that somebody is getting their kicks out of pushing all the buttons on every floor. She nodded and then I noticed her looking me over from head to toe. When she looked back at my face she said "Damn you look good" and I thanked her.
It doesn't get much better than that!
Enjoy,