Crossdresser Christmas parties are taking place as the season gets into full swing. Our club CHIC had theirs this last Saturday night at an upscale local restaurant. We had it in a private room but had a bonus when a larger group canceled at the last minute. The banquet manager gave it to us at no extra charge. Our Crossdresser Christmas Parties are always fub and very well attended with most members and wives attending. The event has been trending more formal the last couple of years which is a welcome change. Members always dress classy, but the long gown or dress trend has been gaining in popularity.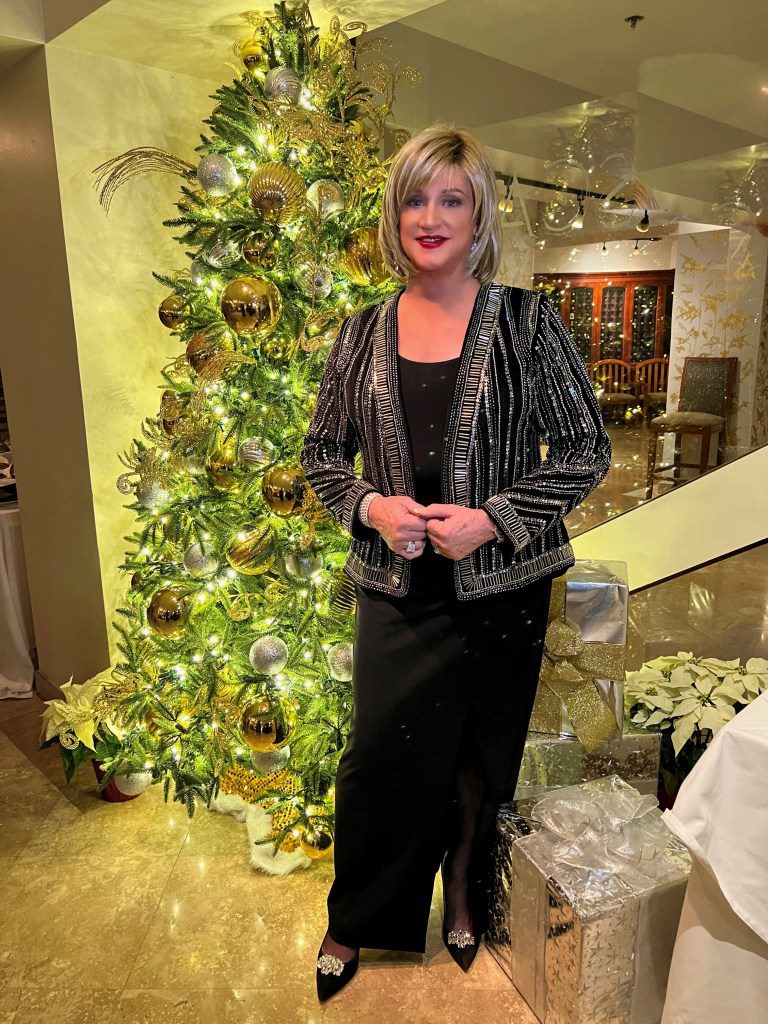 The outfit I am wearing above was purchased for the party last year except for the rhinestone shoe clips that were purchased this month. Last year was canceled because of COVID so it was ready and waiting in the closet. About half the members were in gowns or long dresses this year which added to the elegant atmosphere.
You could tell our girls were ready for a party because I got there a half hour early to meet the harpist and make sure everything was set for the party only to find 6 members already there. Pretty much everyone stayed until they turned the lights up at 11PM.
This Crossdresser Christmas event had an added touch of elegance with a harpist playing in the background during the champagne cocktail hour and dinner. In addition to the champagne, we had hors d'oeuvres consisting of baby lamb chops, Bruschetta, and grilled shrimps.
The party shut down when they turned up the lights at 11 PM to get our girls moving as pretty much everyone had stayed late chatting.
In addition to the Saturday night CHIC Crossdresser Christmas Party, we always have a few members that live far enough away from Long Beach that stay at a nearby hotel for the weekend. That gives an opportunity to party a little in advance of the Saturday night party. This year we had 6 people attending at another Long Beach favorite restaurant. Because it's the festive season we dressed appropriately Friday night also.

Once again thanks to my personal photographer and wife of fellow CHIC member Nell for making me look better.
Looking forward to next year's Crossdresser Christmas Party only 363 days away hopefully without the masks!
ENJOY!