Crossdressing DIVA21 is behind us now and I think the organizers of DIVA Las Vegas did a great job pulling it off after last years was cancelled. I'm not sure about the headcount but there seemed to be quite a few crossdressers there. Even though there were two events going on at the same time DIVA Las Vegas and Wildside there was no conflicts. I think the highlight of both events was the costume party Saturday night where both groups attended together. I attended as a military officer which looked like a general but had Sargent stripes so I'm quite sure.
CROSSDRESSING DIVA21 COSTUME PARTY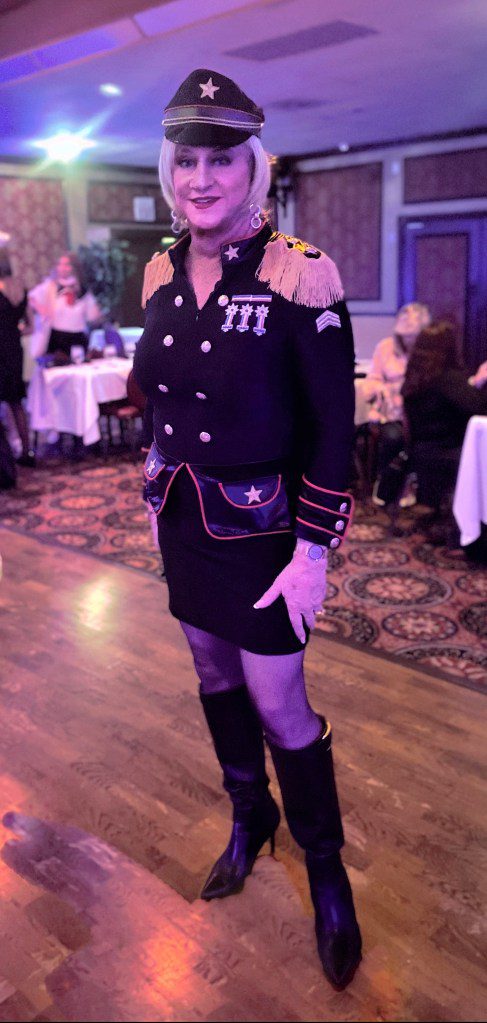 Crossdressing DIVA21 was different this year because it was changed from Spring to Fall and landed right on the Halloween weekend. I think the most fun I had was sitting at the back bar with the civilians dressed like a general. I got lots of compliments on my costume, but nobody saluted me.
CROSSDRESSING DIVA21 1ST NIGHT
My 1st night crossdressing DIVA21 was Thursday and after shopping in the afternoon I came back to the hotel and changed for dinner. Cleaver & Butchered was the restaurant and they had about 20 of us there. They gave us our own room in the back and the food and service were very good. The only downside was they would only do two checks for 20 people so the girl sitting to my left had to try and decipher who had what and collect the cash for the ten people on our side of the table. The good news was the count came out on the money, so we tipped a bit extra.
I'm still working on my photography skills and made the mistake of having the bar manager take this shot of me wearing a favorite suit. I had to tweak the colors and lighting because the background was too dark to show the suit. The lights in the cabinet behind me confused the camera, I think. The suit is still a favorite and will try again to take a picture with a better background.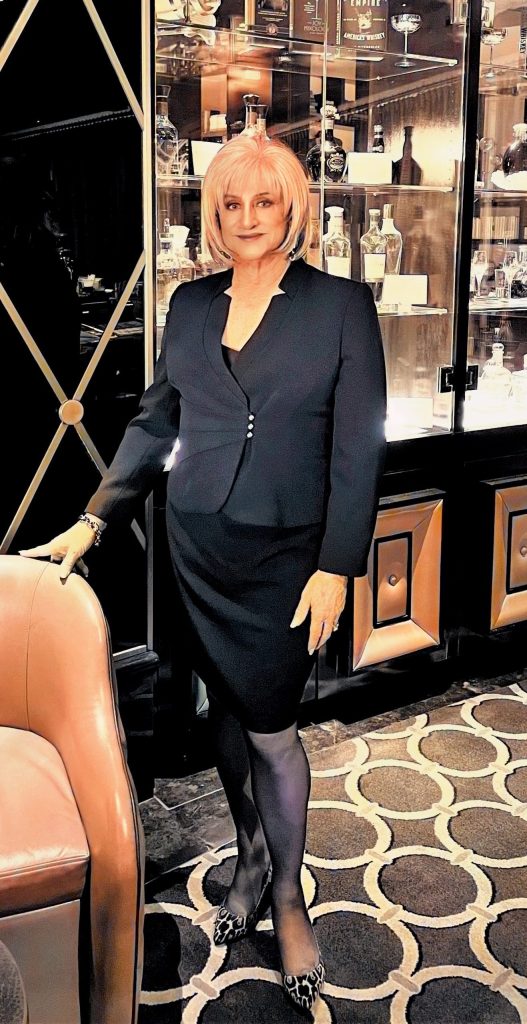 CROSSDRESSING DIVA21 2nd NIGHT
The second night of crossdressing DIVA 21 I had dinner with 7 of my CHIC sisters at Giada's in the Cromwell Hotel. I've been there before with good and bad results but, this time they were great. Our waiter was very attentive, and the food was awesome with my friend Tonya getting the fresh made pasta. When I say fresh, I mean like in Italy where they don't use the dry stuff but make from scratch every day, Tonya loved it.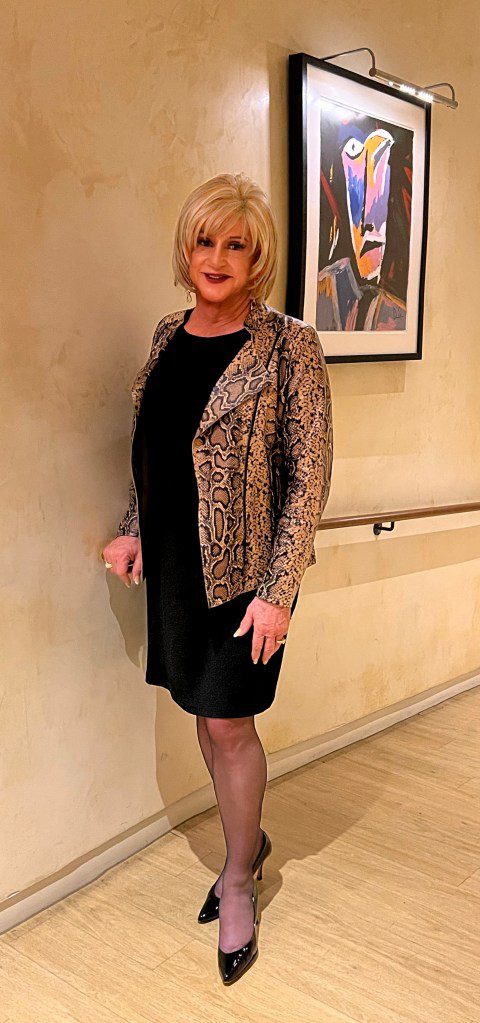 That night for crossdressing DIVA21 I wore my new snakeskin jacket from Venus over a black sleeveless sweater dress. It was a good choice as a got a lot of compliments on it. Surprisingly it was not uncomfortably hot which, I was concerned about in that the fabric does not breath. I guess having an open front gave it the needed ventilation.
I'm looking forward to the mask mandates ending possibly with the new therapeutics currently going through approvals. Wearing a mask indoors not only is uncomfortable but it really screws up your hair. I solved the makeup lipstick smearing issue with my MAC lipstick and my mask basket. Unfortunately, I have not gotten around the mask steaming up glasses and making you face sweaty.
I'll keep working on that one.
Have fun!!