Crossdressers interact with civilians from time to time and some more than others. If you go out in public crossdressed like I do meeting civilians is a certainty. You may not have a conversation experiencing only eye contact, but you need to think about how to handle it. Long ago I took the look them in the eye and smile approach which has always served me well. Last Friday night was no exception, but the outcome surprised me just the same. Seven of us crossdressers interact with civilians who were in town for the monthly Saturday night CHIC meeting so we headed over to a favorite restaurant for dinner. Like our other venues it is a mainstream upscale restaurant where we are definitely in the minority. That said, we are well known by the owner and staff which sends a signal to the other patrons that we are accepted.

COOL!
BFF Ashley, my guest Sherri and I arrived via UBER greeting Mario the owner out front when we arrived. After we hugged, I introduced him to Sherri who had never been there before. Then we joined the others who were at the bar but opted to go to the table early due to lack of bar seating available.
I followed the hostess to our table taking a seat at the end looking out the window to the courtyard. There was a 50ish couple seated at the window in my field of vision so eye contact with the woman was inevitable. It was time for crossdressers interact with civilians.  I smiled at her several times, but she was expressionless. It was more like she was observing rather than communicating with her eyes, so I got involved with my group conversation. Her male companion looked over once then looked away with no expression obviously unimpressed. In situations where I don't have a feel for what the civilian is thinking I end the contact.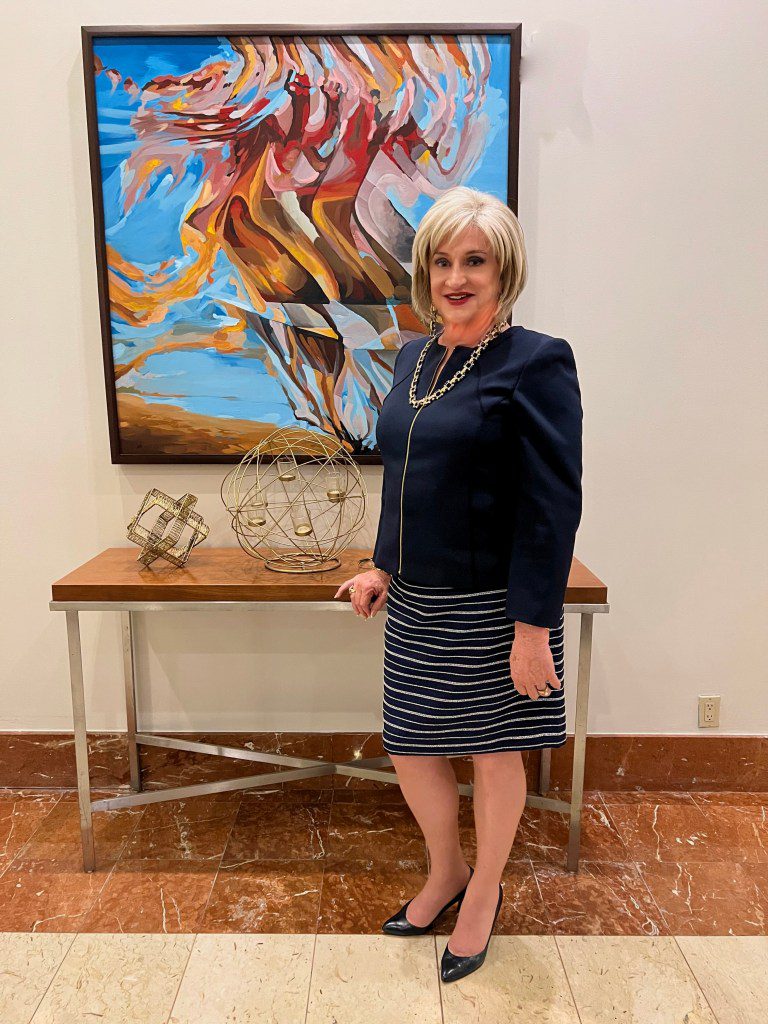 Conversing with my gurlz I lost track of time when I was surprised by a gentle touch on my shoulder. The expressionless woman was telling me how she loved my hairstyle and how great a choice it was for me. She told me how the color was perfect, and the cut was flattering for me. I thanked her for her compliments, and she said good night. Even though it started a bit mysterious my crossdressers interact with civilians worked out wonderfully.
The picture above was taken Friday night back at our hotel where Sherri and I went to the patio bar for a nightcap. It was taken by two ladies we met on the patio as we were leaving. That makes two crossdresser interact with civilians in the same night. This encounter was different because although I saw them sit behind us with two other younger women, we had no contact. I was not even aware that the younger ones had left. When we stood up, they spoke to us, and I was so surprised I don't even remember what they said.  They were curious about us and had questions which we did our best to answer. We pretty much covered everything heterosexual married crossdresser, DRAG QUEENS, Gay, Transgender's Transsexual's my club CHIC. They are left very well-informed civilians.
Saturday night it was more crossdressers interactions with civilians but nothing like Friday. I received compliments on my new wig debuting on that night but not on a par with the night before.
The wig I am wearing above Saturday night is actually darker in the back than Friday's. Its deceptive because both of them are very light in the front so they look very similar.
Saturday night was special though on several levels beginning with our group being larger than normal with 20 attendees. We took up the whole west end of the restaurant with a long table. I have intentionally blurred the faces of those who have not given permission to post pictures of them. Seven of the attendees were wives accompanying their crossdresser husbands.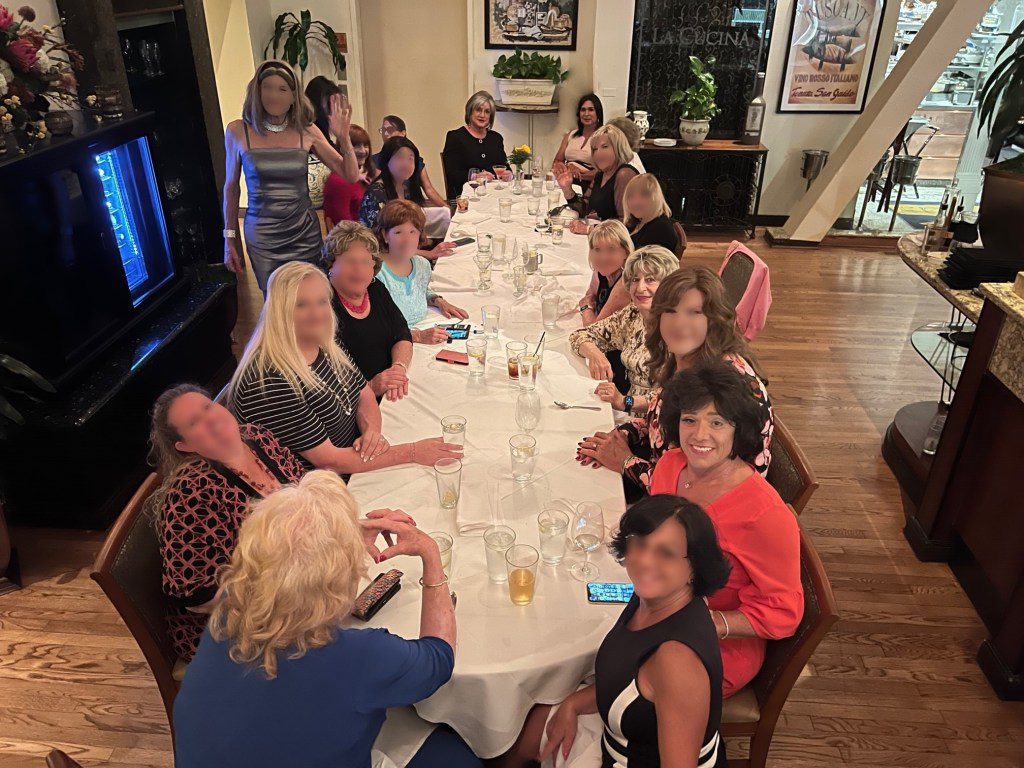 When I sat at the bar before dinner it was next to the same woman, I did a year ago. She naturally remembered me DUH! I stand out but I remember her because she was Asian with an accent and a low voice. Both crossdressers civilian interact with her were challenging because of my hearing and her accent but we did well.
So, in two consecutive nights I had three wonderful crossdressers interact with civilians. It was very rewarding, and I went to bed with a smile on my face that night.
Enjoy,