Tuesday, I ventured out in public cross dressing to go shopping at the mall across from the hotel and again was disappointed with the selections. I only found two pairs or silver earrings which was great because they are hard to find in styles that I like.
Public cross dressing you know by now is something that I am very comfortable with. This is especially true when I am in Las Vegas although it took me a while to get there. I am staying again at the Palazzo which is very accepting and safe. There is a Lowes Home Improvement event going on at the hotel, so the red vests are everywhere.
I had dinner at the Lavo Italian restaurant located just off the lobby as you walk in. They were packed with large groups, so I didn't reject the table they gave me. I knew she did not have a lot of options with so many customers to satisfy. I wasn't thrilled being seated in the middle of the restaurant because I am not fond of being so noticeable. While I am comfortable many of the groups were 40 something guys so I worried they might get rowdy.  They ignored me for the most part, so it was a pleasant evening. The food and service were amazing, and the hostess was kind enough to take a picture of me as I was leaving.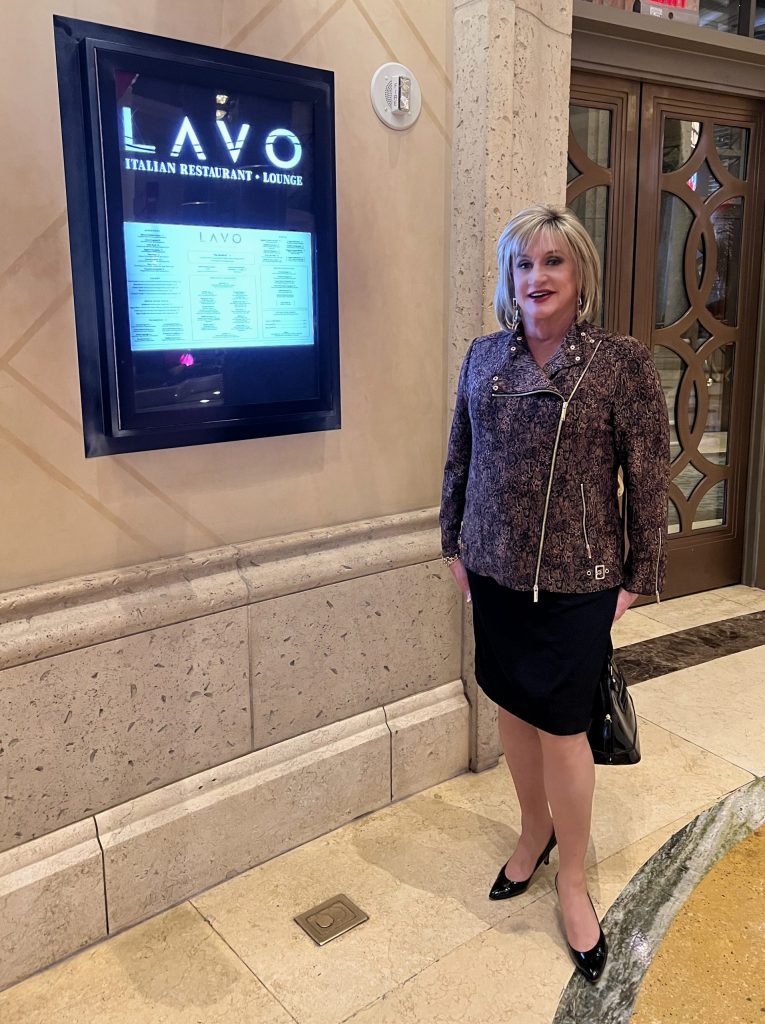 I had a meeting scheduled for Wednesday afternoon with Amy of JUST YOU Boutique a couple of miles from my hotel. She helps people interested in public cross dressing and other services.
I had been to her old location years ago but, not the new one. I have met her several times and planned on doing a post on her business, so I wanted to see her again and have a chance to
talk

with her. You will have to wait for my next post to get the details because there is a lot of information for you.
Enjoy,