Deja vu all over again as Yogi Bera once said as I'm back in Las Vegas this week for DIVA Las Vegas 25th anniversary get together. DIVA began for me Monday night when I coordinated the dinner at Oscar's Steakhouse at the Plaza hotel downtown. We had a table for 8 but had a last-minute addition for a total nine. You read about my last visit to Oscar's when I was last in town at TG Rocktober a couple of weeks ago.
Pictured below from Rocktober is Kelli left, myself center and an unknown beauty on the right.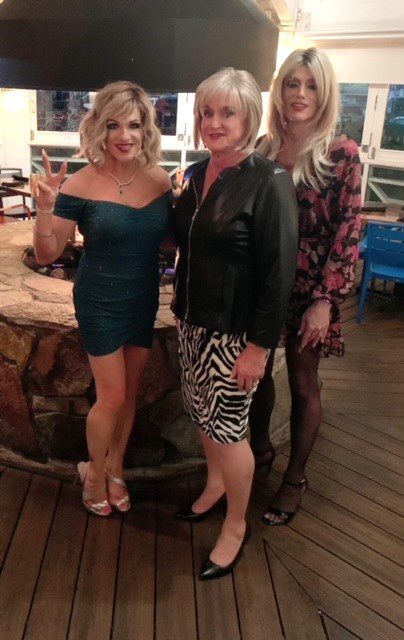 The photo below is my table at the official TG Rocktober kickoff dinner with me seated far right.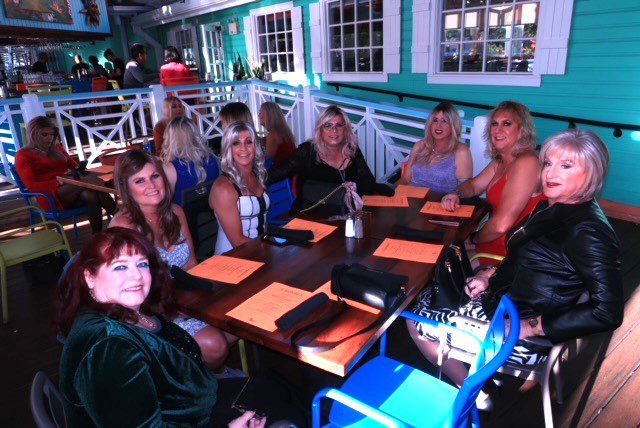 Getting back to the present and DIVA Las Vegas I was very fortunate to have Quinn the server I ran into last trip to Oscar's as my server for the Monday night dinner. She is awesome as both a server and a person and we had a great time. She accommodated our addition of another person and gave us separate checks which is hard to accomplish with large parties. Quinn was great fun and made the dinner a great success. The picture below was taken just outside of Oscar's.
This year DIVA seems a bit bigger than I remember from last year and I have met several newbies venturing out for their very first time. It's great to see them launch and integrate with the group that is very welcoming. DIVA has a Big Sister program for new people needing a little assistance, but I get the impression the newbies I have met are just winging it on their own. Last night at our quiet common gathering in the lounge we had two new attendees sit with us. One was from New York and the other from Arizona and both were seamlessly integrated into our group like old friends.
No pictures from last night (Tuesday) I did not take any but tonight I am coordinating the Ruth's Chris dinner and have a special outfit for it. Definitely plan on some pictures from the Lounge and possibly some from the dinner upstairs.